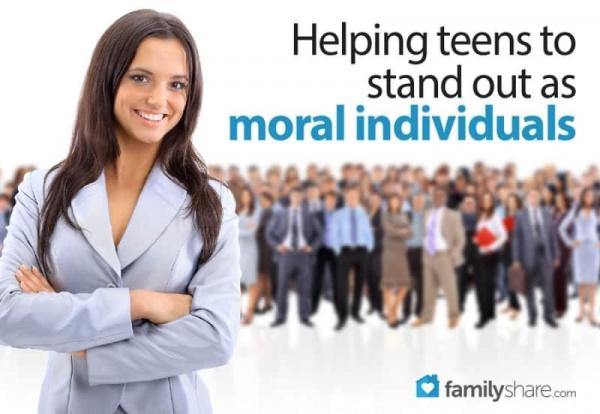 As a junior in high school, I took a pretest at the beginning of my biology class. Based upon my score, they decided to move me up to the honors class. All the other students had been on the honors track for two years - they were the "brainy" kids. I was very different from them. I bought my clothes at thrift stores, rode a Vespa scooter and had unique haircuts. One day the teacher said to me, "You know, Robyn, you are not like the other kids in this class." This was true, but I was not just different in my outward appearance. I was also different from most of my peers because of the person I was on the inside - my standards, my beliefs and my character.
Dr. Seuss once said, "Why fit in when you were born to stand out." Because each of us is a unique individual with our own talents, gifts and abilities. We can each stand out. And we should seek to do so instead of trying to fit in or go with the crowd. Everyone can stand out for their standards, their beliefs and their character.
We should never be afraid to let others know what we believe. In Paul's first epistle to Timothy, he counsels him to "let no man despise thy youth; but be thou an example of the believers." (1Timothy 4:12) Our oldest son often shares with others at school his belief in the sanctity of marriage. This is not always easy, but it is always right.
Do we try to conform our standards to those around us? It is easy to be afraid that others will tease, confront or ridicule us for holding our standards. Our second daughter has always strived to be modest in her dress. When prom season came, she didn't want to lower her standard on dress even though it was difficult to find dresses that fit our standard of modesty. She ordered her senior prom dress online. She looked beautiful - and the compliments she received that night confirmed it. Even chaperones went out of their way to say her dress was beautiful. She was willing to stand out.
When Daniel, Shadrach, Meshach and Abed-nego were young men, they were chosen to be taught in the king of Babylon's court. The food given to them was not in keeping with Mosaic Law. So they refused to eat it and asked for simple food to eat. After 10 days, it was obvious that they were healthier than those who ate the king's meat. Because of their obedience "God gave them knowledge and skill in all learning and wisdom." They were blessed because they dared to stand out.
Fitting in may be easier. It may keep you from bringing attention to your differences. But that is not what each of us was born to do. We were born to stand out. That is what our Heavenly Father wants of us. "Ye are the light of the world. A city that is set on a hill cannot be hid ... Let your light so shine before men, that they may see your good works, and glorify your Father which is in heaven." (Matthew 5:14, 16)
When you stand out from the crowd you are not just showing the light in you, you are showing the source of that light - our Father in Heaven.