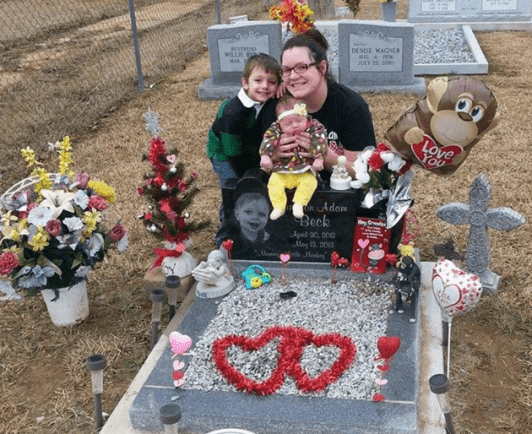 When we take children in the car, we make sure they're well protected with their seat belts fastened. However, if we're not careful, we can think something is perfectly safe when in reality, it's not. That's exactly what happened to Louisiana mother, Holly Wagner.
After the tragic death of her baby, she's determined to inform parents of this common danger so they don't make the same mistake.
According to TODAY, Wagner is educating parents around the world about the dangers of car seats that aren't suited for their child's weight or height. Because she was unaware of this, Wagner's 11-month-old son, Cameron, passed away 16 days after a horrible crash.
The young mother was going to work when she left her two children with her boyfriend. The two kids were in their car seats when the accident happened, but Cameron's car seat wasn't up to standard for his weight and height. He was ejected from his seat and suffered a number of injuries that led to his death.
She discovered what happened after she saw a photo
A few weeks later, Holly was looking through photos when she came across a picture of her son in his car seat - he wasn't sitting properly.
According to Huffpost, the crime scene investigator who arrived at the scene told Wagner about Cameron's car seat: "Only the chest clip was fastened. Upon impact the chest clip broke causing Cameron to come out his seat and be ejected from the car," she explained.
Wagner reveals the horrifying reality that if things had been different, Cameron would have lived. "[The investigator] told me that if Cameron would have been rear-facing and buckled properly that he would still be here today."
The car seat was in the wrong position
According to Today, "Car crashes are a leading killer of children in the United States. More than 650 children under age 12 died and another 148,000 were injured in 2011 ... Proper car seat use reduces the risk for death to babies (under age 1) by 71 percent and toddlers (under age 4) by 54 percent."
The American Academy of Pediatricsstates that children should be in rear-facing car seats until they're two years old or big enough to handle a forward-facing seat. Cameron was just shy of a year old, and was not properly buckled in the right kind of seat.
Each child needs a different car seat
Wagner now dedicates her life to informing and raising awareness so others won't have to go through the tragedy of losing a child in a car accident.
Not all children need the same type of car seat. When you buy one for your child, be aware of the safety regulations that fit your child. Guidelines for size and weight can be found with whatever car seat you purchase.
Wagner's Facebook page also gives several recommendations on finding the right car seat, including not buying a used car seat, doing your research and making sure your child is rear-facing until they're two years old. She also urges parents to make sure the straps are fastened properly.
She's helping others through her experience
Wagner blamed herself over and over again for not knowing the risks of not having a proper car seat. Now, she's was determined to turn her sadness from the tragedy into a positive thing. Her Facebook page not only tells the story of what happened to her baby, but also serves as a reminder of how fragile life really is.
This article was adapted and translated from the original "Su bebé muere inesperadamente; dos semanas más tarde su madre ve una foto en la cual se ve el motivo de la tragedia" which was originally published on familias.com.