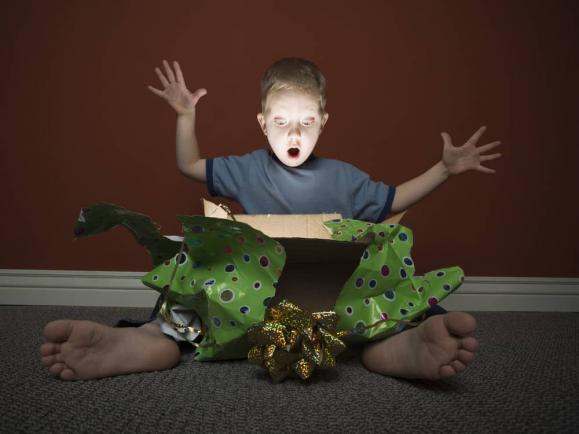 Editor's note: This article was originally published on Jenni Schoenberger's blog, Mama Plus One. It has been republished here with permission.
I have a 7-month-old, and I know it's kind of cheating, but he is SO easy to shop for. The nice thing about young children is you can predict their interests pretty easily. This makes gift giving super cheap (and so much fun!)
I'm a single mom. Money is tight " because I'm disabled, my sole source of income is barely enough to support us. But that doesn't stop me from giving my son amazing gifts for holidays. I just have to find ways around the price tags! (And the best part is, these secrets apply whether your child is 7 months old or 7 years old!)
Here's how I do it:
1. Garage sales are your friend
At this age, my son has no idea if I paid $1 or $15 for that cool xylophone he received. All he knows is, it makes noise, and it's a lot of fun. I check garage sales frequently for age-appropriate toys with no damage. My son has no idea it's secondhand, but even if he did know, I don't think it would stop him from having a blast. Most of what he owns is secondhand. One of his favorite toys is a toy laptop that was given to me by a family whose children had outgrown it. The original price? $31.99. I have a motorized car in the basement that Zach is going to get in about a year and a half. It originally cost over $70. I paid $6 for it. It works perfectly.
Seriously, embrace the secondhand. Consignment sales, garage sales, they get you a lot of cool toys, for a really good price! Even with older kids, if you're able to find toys in like-new condition, the packaging won't matter. Looking for electronics? Shop refurbished items, which are often like new or used previously by individuals who took VERY good care of it. No one will ever know the difference.
2. Scour sales online and in store
I keep an eye out for toy sales as often as I can. Last year, someone clued me in to a super sale on Melissa and Doug wooden toys from Bloomingdales. The original price of the toys were $20 to $30 each " I shelled out a mere $4 to $6 per toy, and searched for a free shipping code from retailmenot.com. I purchased toys for four holidays, for $22. Last year, I found a great deal on Melissa and Doug puzzles, in store this time, at Toys"R"Us. The puzzles typically were in the $15 range, and I spent $5 each on them, plus used a coupon to save even more. Unexpected sales are a great source of savings, especially if you know when and what to look for (and make sure to stay within a set budget!)
3. Seasonal items are total steals!
My son loves books. He loves to read them, chew on them and savor each page. For example, the day after Valentine's Day, I ventured to my local Walmart. They had all Valentine's merchandise marked down including seasonal books. I was able to get some fun books for Zach, half off. I purchased three books (priced $2 to $8 each) and spent $6. These books will stay in the closet and make an appearance next year. Since he's so young, he isn't suddenly going to jump a huge amount of reading levels, obviously, so I can get away with purchasing books and sticking them in a closet until next year.
I also looked for other seasonal toys or outfits - if you can judge what your child's size might be, you can even buy some seasonal clothing early (or buy clothing that looks seasonal, but could be worn even after the holiday.
4. Look for things that grow or have multiple uses
Right now, my son is in a banging phase. He bangs on everything - the floor, the table, anything. Those lidded mixing bowls are not bowls, but instead, they're a drum set. In a year, they'll be storage containers for edible play dough. A year after that, they'll grow into a sensory tub. After that, we'll be able to use those bowls to mix up a cake or some bread. Each year, or even from month-to-month, those bowls will have varying uses that will grow with him over time.
In the Melissa and Doug toys I scored, Zach loves a tambourine that came with it. Again, it's something he can bang on. But that tambourine came as part of a set, and I can guarantee that a year from now, the cymbals or triangle will get a lot of use, even though right now, they just sit in his toy box, untouched. Things that grow with your child are worth an extra look. When you pick an item that can be used in different ways or at different stages, you're picking an item that stretches your dollar over the long run.
Also, consider this idea when buying things like Lego sets. Lego sells some sets that are 3-in-1 for the same price as other sets that only have one way to build. If your child is very into the building and rebuilding, a 3-in-1 set is probably more worth your money than a set that will be built once and put away.
5. Space out your giving
Last month, I got my Citrus Lane box in the mail. When I get the box, I give it a good, careful look. Last month, Zach immediately got to play with the tugboat. It was a "right now" gift. But I held onto the strawberry yogurt snacks. I didn't open them, I didn't really draw attention to them. They went into the closet. Zach "nommed" on the mango snacks, yes, and loved them. So, as part of a Valentine's Day gift, he got the adorable pink Strawberry Yogurt snacks. For now, he's more interested in the unwrapping than what's inside, so he doesn't care that I gave him some yogurt snacks " and even so, he LOVES yogurt snacks, so it wasn't an issue.
Maybe I won't be able to get by with packaging up yogurt snacks in the future, but for now, it works for me, and that's how I give him a cool gift. Right now, he loves the tambourine and maracas from his Melissa and Doug instruments, but when he gets bored with those, I can take those out of his main toy box, and swap his cymbals into the toy box, and he'll have an all-new toy to play with. If you get a subscription box for your child, whether it's Citrus Lane, LootCrate, or another great leader, try opening it separately, giving them something for now, and saving another gift for later. When stores like Target or Toys"R"Us do a "Buy 2, Get 1 Free" deal, consider giving one now, one for the next holiday, and one for the holiday after that!
6. Use free gift cards to stretch your budget
How many times do you see a deal where you can get a gift card at Target for buying a certain number of other items you're buying anyway? While of course, they're roping you into buying multiple items, if you plan on using the toilet paper or diapers or whatever else is in the deal, you may as well stock up, and save that gift card for when it's gift-giving time! I'll often purchase the items, then hold onto that gift card until Christmastime, getting many of my gifts free or very affordably.
Additionally, Walmart now has the SavingsCatcher part of their app where you can get a gift card for the difference between what you paid at Walmart and what you could have paid at another local store instead if Walmart didn't have the lowest price. These gift cards can be looked at as money set aside for helping you pay for a gift later.
7. Set a budget. Stick with it
I know that I only make a certain amount in a year. That's why I plan my spending out. Do I need to buy gifts for holidays? Cool, there's an envelope for that. I have one envelope that, each month, I take money out, and put in there. That's my holiday shopping for the month - be it Christmas, Birthday, Easter, whatever. That's the money I have for it. That's the money I can afford, and I'm not going over that.
Do I need $450 for our annual island vacation? Yes. That's a planned expense. I spend the entire year setting aside $20 here and $50 here, and by the time vacation rolls around, I have enough to pay for vacation. When I get home, I have an empty envelope to start over again. When you plan an expense, when you say "this is how much money I need for this," then you know that you have to save that much money, and you do it. When I set a goal of what I'm spending my money on, what I need to save for, then it helps to work hard to reach that goal.
8. Teach him it's not about the "get."
Growing up, as Christmas would approach, my brother would get increasingly excited. I don't presume that's abnormal - most kids get excited as a holiday approaches. But when we'd inquire about his excitement, the answer was always the same "I can't wait for you to open what I got you!" His joy, his Christmas excitement, didn't come from finding out what we got him " it was seeing our face when we opened the gift he gave us. He is still that way. This year, he purchased a Valentine's Day present for Zach. As soon as we woke up Valentine's morning, he said "I think we should exchange gifts now." "Now? Are you that excited to see what you got?" "No. I want Zach to open my present!" It's just a part of our family - we all are like that.
I am so happy to have grown up in a family that instilled a nature of giving. That's something to pass on to my son and that, I think, will help keep me from breaking the bank the most. It's about teaching him that it's not about the material objects. It's about the family, and the love you share, that gets you through the year.