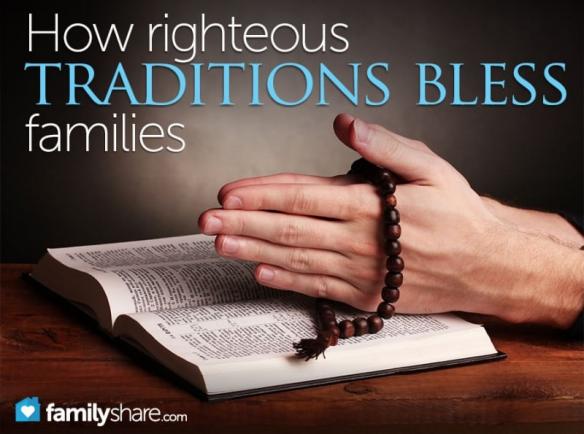 Tevye, the patriarchal father and the main character in "Fiddler on the Roof," opens the play with a monologue about the fiddler who keeps balance on the roof. He likens this musician to families having traditions that keep their lives in balance. He shares,
Because of our traditions, we've kept our balance for many, many years. Here in Anatevka we have traditions for everything... how to eat, how to sleep, how to wear clothes. For instance, we always keep our heads covered and always wear a little prayer shawl ... This shows our constant devotion to God. You may ask how did this tradition start. I'll tell you - I don't know. But it's a tradition ... Because of our traditions, everyone knows who he is and what God expects him to do.
Jewish customs, along with other major world religions, are rich with heritage, meaning and purpose. Their traditions have survived thousands of years across many struggles and social and political changes. They share common goals of life balance and unity within families.
Religious practices have shown many positive effects such as increased marriage stability, improved health, better parenting and overall happiness and well being. Tevye's resonating words remind us that in families with righteous traditions, "everyone knows who he is and what God expects him to do." So what righteous practices can we practice blessing our families? Here are a few:
Holidays
Undoubtedly, celebrating holidays are not only culturally enriching, but also build strong family traditions year after year. Every religion and country recognizes certain holidays that bring families and communities together such as Cinco de Mayo, Hanukkah, Thanksgiving, Mother's Day, Ramadan, and Christmas just to name a few. As Tevye outlined, traditional holidays often dictate "how to eat, how to sleep, how to wear clothes." Customs like these remind us that rituals tie us to the details of life.
Life Celebrations
Children thrive when they know major milestones in life are worthy of pursuit and will be celebrated with family. Birthday parties, school graduations, baptisms, quinceañeras, bar and bat mitzvahs, anniversaries and family reunions are a few life celebrations that build strong traditions where a child feels a sense of belonging and "knows who he is."
Family Religiosity and Rituals
: Religiosity refers to the extent to which a parent's religious beliefs are manifest within the family. Daily family devotional, prayer, personal meditation and scripture study are proactive behaviors that anchor and bless a child's life. Richard G. Scott, a religious leader, affirmed these parenting practices build "spiritual protection...to strengthen themselves, their families, their country and future generations."
Individual families can also create their own righteous customs and traditions. One family recites together this portion of the poem by Charles Sprague as they gather around the table for dinner each night:
We are all here,
Father, mother,
Sister, brother,
All who hold each other dear.
Each chair is filled,
We are all at home!
Another powerful family ritual is to reserve one night a week to spend time together in recreation, counsel, in teaching values and importance of each family member. In these settings, a child learns "what God expects him to do."
Building Faith Communities
: We can't do it alone. It does take a village to raise a child. In a study conducted by Loren Marks, professor at Louisiana State University, he found"Muslim, Jewish and Christian parents all invested on a variety of levels in this search for a spiritual home, including involvement in their faith communities where the interviewed parents rendered a reported average of more than 10 percent of their income and twelve hours a week of their time." Participating regularly with other like-minded families strengthens our resolve and ability to persist in raising righteous families.