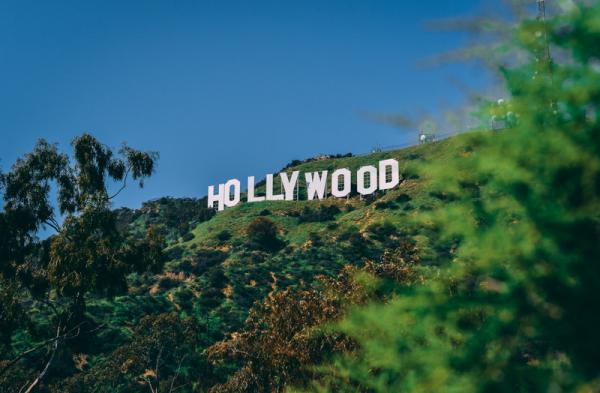 The Coronavirus pandemic has made it challenging for everyone to remain a somewhat normal lifestyle and that includes our favorite celebrities. Celebrities are coming up with all kinds of ways to keep their families busy while self-quarantining and many have not hesitated to share their activities online.
Take a look at how some of Hollywood's most famous are managing during quarantine.
Kourtney Kardashian
On March 16th, the oldest Kardashian sister shared in a detail Instagram post of how life in quarantine has been going in her household.
"Yes we're still in our pajamas from the night before and haven't brushed our hair yet, but we've been busy with important stuff like meditating, reading books, watching movies, baking, dancing around the kitchen, playing dress up" the Poosh creator said.
"And most importantly, really slowing down and spending time together."
The post featured a video of the 41 year old's youngest son Reign showing off his yoga skills. The star's son did "real" and "fake" yoga" as he counted off on his fingers with his eyes closed after taking a deep breath.
"Now I'm done everyone. See you later, I'll make another video," the little boy said.
Laura Perlongo and Nev Schulman
Laura Perlongo, wife to Catfish creator Nev Schulman posted an adorable video of their daughter Cleo as she was putting together a puzzle. The video featured Laura encouraging her daughter to eat a bowl of salad with Cleo promising she would "crush" the bowl of salad tomorrow.
Kristen Bell and Dax Sheppard
Kristen Bell and Dax Sheppard are keeping kids all over the world busy during the pandemic with Camp Hello Bello activities. The couple release a camp schedule on a weekly basis full of fun activities to keep kids engaged while at home. The camp is a free and all of its programming can be viewed on the Hello Bello's Instagram Live, YouTube, and Facebook.
The couple who share two children together, created the Hello Bello brand as a way to make affordable, premium baby care products accessible to all parents. Camp Hello Bello was an extension of their brand to help support parents during the pandemic.
"We know this is a hard time for so many in our community, Camp Hello Bello is our small way of supporting and connecting us," the couple states on their website.
Bell has also used her social media platform to promote ways to support COVID-19 relief efforts.
Mark Wahlberg
'The Office' actor posted an adorable video of his daughter providing an at home spa treatment while painting his nails bright pink. The video featured Walhberg in a bright pink hoodie receiving a full make over from his daughter that included a manicure, pedicure, and make up.
Jennifer Lopez and Alex Rodriguez
The singer and baseball star have had a house full and have not hesitated to share the countless memories they have been creating with their children. In a recent Instagram video, the couple along with their children ( Lopez's twins Emme and Max, and Rodriguez's daughters Natash and Ella) were seen showing off their dance skills in a TikTok challenge. The family has been nestled inside of Rodriguez's Coral Gables house in Miami that the former Yankee helped to design and build.
Russell Wilson and Ciara
One of the most loved celebrity couple's recently shared the gender of their newest addition in a loving Instagram video that featured the whole family. The couple and their children can be seen dressed in white, shooting out blue streamers revealing the family would be expecting a baby boy. The sweet video shows the family beaming with joy at the announcement.
The couple has not been shy about sharing what they've been up to during quarantine. Both of their Instagram pages feature videos of the family dancing, playing outside, singing, and even some one on one football training Russell had with their son.
Zoe Saldana
The 'Avatar' actress gave her followers a glimpse of just how quarantined life with three boys is going. The funny video featured Saldana's husband, Italian director Marco Perego, trying to resolve a dispute the couple's twin boys were having over a soccer ball.
"I swear I'm not feeling sorry for my husband and I, it's just that being stuck at home with these cubs makes me appreciate work," the actress said in her post.
Jessica Alba
Jessica Alba shared a video of her two year old son nailing an at home game of baseball. The actress has been very vocal on social media on sharing quarantine hacks for families which has included cooking, self-care, and workouts. Throughout her posts she encourages followers to remain positive, active, and most importantly healthy.
Chrissy Teigen and John Legend
Of course a pandemic couldn't stop Chrissy Teigen and John Legend from being their usual hilarious selves. Leave it up to them to continue keeping online users entertained with their never ending jokes, wit and hilarious banter. Surely the couple has no problem keeping their family entertained and they continue to keep their followers engaged in their household day to day. The couple who share two kids together- three year old daughter Luna and one year old son Miles, have posted numerous funny clips of the family entertaining themselves which included John Legend performing a cover of Selena Gomez's "Hands to Myself" during a wedding between his daughter's stuffed animals.
Teigen recently shared a sweet musical moment the couple's two kids were having while playing the piano. Surely the two are destined to follow in their father's footsteps of musical greatness.
Gisele Bündchen
Brazilian supermodel Gisele Bündchen sent an uplifting message to the world in a recent Instagram video that featured the model with her two children singing Bruno Mars "Count on Me." The model captioned the video by asking followers how they were spending their time in quarantine.
" Though we are going through a very tough time, let's try to focus on the present, and live the HERE and NOW. Life is a gift, let's support one another," the model said .
Everyone is having to make adjustments to get comfortable with the "new normal," and if you're struggling to find ways to keep your family entertained during quarantine, just remember, no one has had to do this before. There will be good days and there will be bad ones. Some days you may not have a clue on what to do and are running low on patience; And that's okay. Social media is constantly being filled with new and creative things to do at home. It's important to create your own support system through these trying times and remind yourself constantly that you are doing your best.