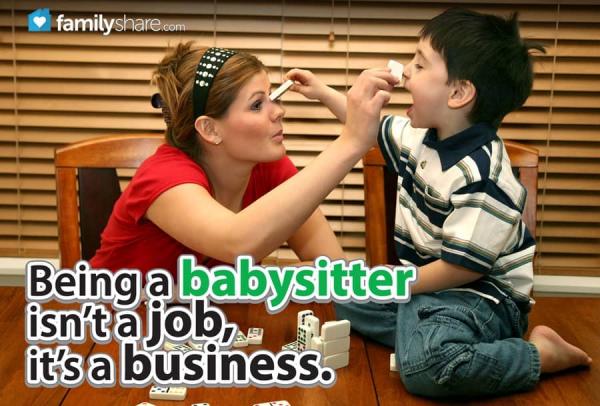 Being a babysitter isn't a job, it's a business. That makes you an entrepreneur. If you approach your short career as a babysitter as a business, you can have a lot more fun and make more money.
Here are some tips to help you be a great babysitter:
Follow instructions
Most parents will give you explicit instructions for what to do while they are out. Do exactly what they ask you to do.
Be tidy
Unless the parents have a nanny cam or the kids report you, the house will be the primary evidence of your performance. You don't need to clean the toilets and scrub the floors, but you should make sure the house is a bit tidier when the parents get home than when they left. Don't be afraid of a few dishes.
Have fun
Plan age-appropriate activities for the kids. Engage with them so they ask their parents to have you take care of them every time their parents leave.
Be prepared
Make sure you know what to do in an emergency. Be sure you understand basic first aid, when to call 911, and how to get help in the neighborhood for problems that may arise.
Be honest
Don't ever steal. Be honest about the hours you work. If something unfortunate happens while you are on duty, report it to the parents. No matter what.
If you follow those basic tips, you'll likely be as busy as you want to be. In case you still want more work than you've got, here are some tips to grow your clientele.
Be easy to reach
Make sure the parents in the neighborhood know how to reach you. If you get a text, email or voice mail from one of them, answer it promptly - before they call someone else.
Have a business card
You can order professional business cards online for less than $20. One job will pay for them. Pass them around to parents in the neighborhood.
Market on Facebook
Use this four-point plan to market yourself on Facebook.
Friend the parents
Not only are all of your friends on Facebook, all of the mothers in the neighborhood with little kids are, too. Find them and "friend" them.
Set up a page
You can set up a page for your babysitting business that is like a permanent online advertisement for free. It is no harder than setting up your own profile.
Get endorsements
Have parents who've used your babysitting services "like" your page and write posts about what a great job you did.
Be on your best behavior
Both your personal page and your babysitting page should reflect your professionalism. Never talk about smoking, drugs or alcohol or anything else that parents would find objectionable. Don't swoon over your boyfriend (or girlfriend) online either. Be respectable.
By combining the plan for being a great babysitter with the plan for building your clientele, you'll quickly find yourself in the enviable dilemma of turning people down and raising your fees!