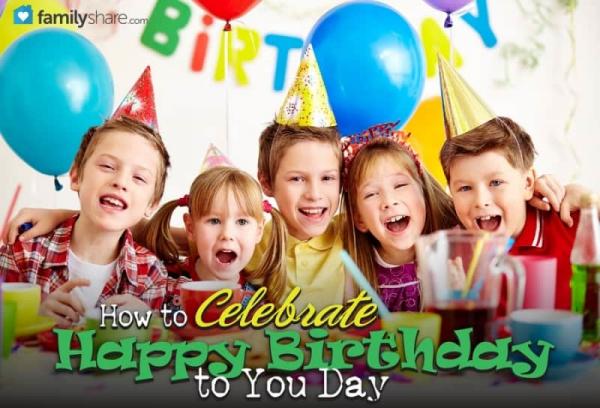 Your children celebrate their birthdays on separate days throughout the year, but why not celebrate everyone's unofficial birthday on the same day? June 27 is Happy Birthday to You Day. This unique holiday lets you celebrate everyone's unofficial birthday. Here are five suggestions for making this day truly special.
1. Have a traditional birthday party
Cake, ice cream, balloons, and party hats are all part of the birthday celebration. Celebrate Happy Birthday to You Day by throwing your entire family a birthday party. Play party games, then eat cake and ice cream. You can even let each child take a turn blowing out the candles. Plan today like you would for any of your children's actual birthdays. Your children will have a lot of fun joining in the celebration, especially since they know it is for them.
2. Let each child choose
Let today be all about your children. Let them choose the activities you do throughout the day. Give each child a turn choosing the place they want to visit or the activity they want to do. If your children are quite young, choose to visit one of their favorite places such as the park or the local swimming pool. Just make today about them and what they would enjoy doing.
3. Everyone deserves a present
Even though it isn't your children's official birthday, they still deserve a present. Presents make birthdays seem more realistic. Give your children something small today for their Happy Birthday to You gift. You can take them to the dollar store or another nearby store and let them choose one toy. Or, you can purchase the items yourself and surprise them. Either way, children love new toys, and this will make today an even more fun and special day for them.
4. Bake a cake together
Many children love to help their parents in the kitchen. They love cracking eggs, stirring, and licking the spoon. To celebrate everyone's birthday, ask all of your children to help you make a birthday cake. Let them make the cake while you instruct and supervise. Don't be too uptight about how the cake turns out. Let them frost it and decorate it. Praise their work and make them proud. Remember, it is their birthday cake, too.
5. Make cards
If your children love to do crafts and be creative, designing cards may be the perfect project for them. Let them create a variety of cards, whether they are birthday cards, thank you cards, thinking of you cards, etc. Gather a variety of paper, crayons, scissors, glue, and stickers then let them ignite their creative juices. You may be amazed at the artistic ability of your children. Who knows? You may receive a card yourself.
Happy Birthday to You Day doesn't have to be anything outstanding. Small and simple gestures are enough to celebrate each member of your family. A little warning: Children love parties. You may be told it is their unofficial birthday several times throughout the year after celebrating this holiday.