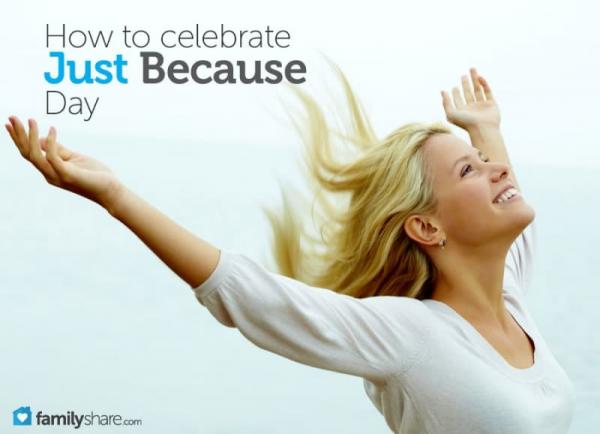 For most of us, our lives seem to constantly be on the go. Our actions are often dictated by our to-do lists and the things that we must get done, whether for work or our family. August 27 is Just Because Day. This day is designed to do things just because you want to. This is a day to do things we normally wouldn't do, but that will bring us, our family, friends and even those we don't know well a large smile. Here are several ways you can celebrate Just Because Day.
Make your spouse's favorite meal
Just because you love your spouse, surprise him or her after a long day at work with his favorite meal. He works hard for your family and deserves a little appreciation.
Write letters to your children
Your children are the center of your world. Most of your daily tasks and activities center around your kids. Spend some time and write them letters letting them know just how much you love and care for them. It doesn't have to be a special occasion to let them know that you love them and are proud of their accomplishments.
Call a long-lost friend
Take the time to call a friend you haven't seen or spoken to in a long time. You don't need a reason to call. Just say hello and see how her life is going. Rekindling a friendship can be one of the best ways to celebrate this unique holiday.
Visit a sick, lonely or depressed individual
There are people all around us who are facing challenging and difficult times. Take some time out of your busy schedule to visit them and offer them encouraging and uplifting words. An unexpected visit from a friend can turn someone's day completely around. Be that friend and help bring a little sunshine to a gloomy day.
Enjoy a delicious dessert
It doesn't have to be a birthday, anniversary or a holiday to enjoy a delicious dessert. Just because you love sweets and sugar, enjoy a delicious treat that will ignite your taste buds. You can make a yummy treat yourself or go to a nearby bakery or restaurant and order something that is sure to satisfy your sweet cravings.
Start a new project
If there is a project or a hobby that you have always wanted to try, today is the perfecting starting point. Why? Just because. Today, you really don't need a reason to do the things that you do. Put off the things of lesser importance on your to-do list and enjoy starting something new.
Today, it is OK to do something even if there isn't a reason for it. Do things because you want to, not because you have to. When you take time to do the things you want to do, you will be more relaxed, happy and productive. Think about your family, friends and those you care about most today, including yourself. And enjoy today - just because.