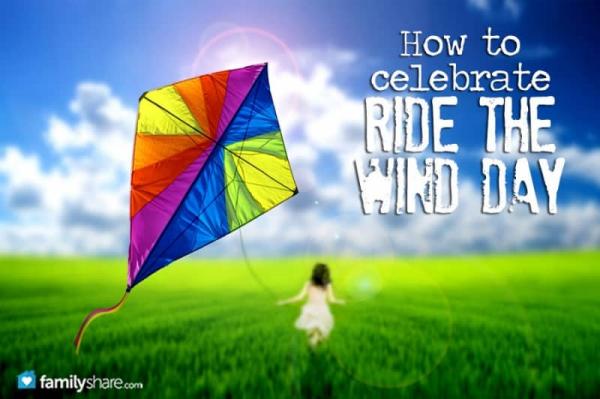 Windy days can make playing outdoors a challenge. It can ruin a perfectly good picnic or a play date. August 23 is Ride the Wind Day. Summer is almost over, and your days of playing outdoors are quickly coming to an end. This day encourages individuals to enjoy the outdoors, be carefree and not let a little wind ruin your day. Don't let the end of summer come to an abrupt end. Relax and spend some time with your children no matter the weather. Here are five windy day activities for you and your children to enjoy.
1. Fly a kite
Go to a park and fly a kite with your children. Flying a kite is the perfect windy day activity and can keep your children entertained for hours. You can buy your kite at a nearby store or be creative by letting your children make their own.
2. Make pinwheels
Let your children's creativity soar by making pinwheels. There are several websites that provide step-by-step guidance on how to make these items such as this one from Home Made Simple. You can let your children use scrapbook paper for their pinwheels or let them draw and color to create their own. Once your pinwheels are complete, go outside and watch them spin.
3. Make your own sailboat
Another fun project that is educational and will spark your child's creativity is to create your own sailboats. Provide your children with a variety of materials such as Popsicle sticks, paper, fabric, tape, scissors and push pins. Let your kids create their own sailboats and then spend the afternoon testing their creations. You can race your sailboats or see which boat can sail the longest. This can be a great way to get your children thinking beyond electronic gadgets and TV shows.
4. Paper airplane contest
Get rid of all the scrap paper lying around your home and hold a paper airplane contest. This is a great activity to help younger children learn to fold paper well. For older children, it can be an excellent way to get them involved and willing to participate.
5. Create wind streamers
Creating your own wind streamer is a fun and simple way to enjoy the wind. To create a wind streamer, you simply need a large piece of construction paper, tape, markers and crayons, string and party streamers. First, let your children decorate the piece of construction paper. Then, wrap it around horizontally so it creates a thick tube and tape the ends. Then, your children can tape the party streamers to the inside of the tube. With the string, hang the wind streamer outside and have fun watching it blow in the wind.
Windy days can be a great draw to a day of fun outside. Wind can ruin plans and prevent wanted events from happening. But, it doesn't have to be the cause of boredom. With a few windy day activities, you can keep your children entertained for hours.