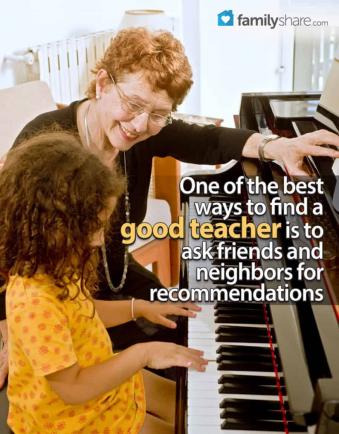 Thousands of children - and adults - are learning to play the piano. The benefits are many: studies show that learning to play musical instruments has a cognitive benefit that transfers over into many unexpected areas, including improvements in math and reasoning. Besides adding culture and refinement to their lives, piano students learn great lessons about work, perseverance, and the rewards that effort and achievement bring.
In most residential areas, there are many piano teachers to choose from. Here are some things to consider when looking for the right one - for your children or even for yourself.
Location
With today's busy schedules, having a teacher who isn't too far away is a huge benefit. Some teachers are even willing to come to your home for lessons, although this is less common.
Credentials
Some teachers have had special training for teaching piano, with college degrees in piano pedagogy or other related courses. Be sure to consider the amount of teaching experience the prospective instructor has.
References
If you are looking for a teacher for your children, be sure to ask for references from other students. This person will be spending time with your child one-on-one, and sometimes alone, so references from others are essential. If you think there might be a problem, then you're better off finding another instructor. It's always better to err on the side of caution.
Price
Lesson fees are often a function of the teacher's credentials and experience, and for the most part, the old adage "you get what you pay for" applies. If a little extra money means you'll get a better teacher, then consider it.
Realize that you, in fact, are hiring the teacher to perform a service. Find out up front what the prospective teacher's policies are on practicing, payments, recitals, and so on, and if there is something that doesn't fit with your needs, it's perfectly acceptable to either negotiate a change with the teacher or find someone else.
Locating teachers with openings differs from area to area. Some teachers advertise in the newspaper or through online classifieds. Local music stores often keep lists of teachers on hand. In many areas, there are guilds and music teacher associations that can steer you towards teachers with openings. One of the best ways to find a good teacher is to ask friends and neighbors for recommendations. Be aware that popular teachers often have waiting lists. However, you can take lessons from another teacher temporarily until your name comes up. It may take time as many students stay with the same teacher for years, and changes are often only made at the end of the school year.
It's a good idea to consider the teacher to be on a trial basis. A surprising amount of the success of the student comes from the personal connection between teacher and student. If things don't feel right, make a change. If the arrangements seem to click, look forward to all the many benefits music brings to life.