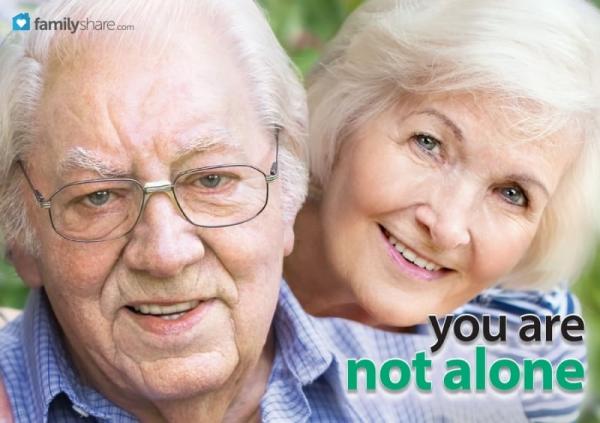 Watching the hero in your life deteriorate before your eyes is one of the hardest trials you will have to go through. Your parent, who was once full of life, is now becoming a shell of the person they once were. The first, and most important thing to remember, is they are still your mom and dad. You still love them, and they still love you.
Although this trial has come to your family, it's important for you, your siblings, and when appropriate extended family members, to come together and lend support to one another.
Early signs
One couple was happily married for more than 60 years. They married in their teens, had a large family, and grew old together. Before the husband passed away, he began to "forget" information such as dates, names, and places. At first, his wife and children didn't take much notice thinking it was "just Dad's thing" to forget.
Over time, the memory lapse caused impairment and handicapped the husband until he was unable to perform basic functioning activities. He would forget he left the stove on or the water running. His Alzheimer's was so bad he began to wander not only around the house but outside as well. He eventually forgot his beautiful bride, her loving smile, and their long life together.
The family came together to do what was best for their husband and father. The wife did a wonderful job taking care of her husband at home while she could. Eventually, he became too difficult to handle and the family decided to place him in a facility.
If your parent is in a facility
Visit them often.

Provide companionship and emotional support.

Provide a cheerful countenance

Reminisce about their "younger years"

Sing/play familiar songs
It's difficult to see a dear loved one who doesn't remember and recall, but you'll be glad you spent the time. Visit with your loved one and spend that precious time with them expressing your love for them, and your thanks for the legacy they have left you and your own children and grandchildren.
Be an active participant in the care they are receiving at the facility. Speak with the nurses, the aides, and other staff members to mediate and observe the activities which are occurring within the walls of this facility.
Pick up an activities calendar and, if your schedule permits, go to the facility and join your parent and the other residents for an activity.
There will be "triggering" times where mom or dad may remember something they have since long forgotten. Enjoy these precious and few moments. Ask them questions, always be happy around them, and enjoy that brief moment having your parent back.
On the more difficult days, maintain your cheerful countenance. An Alzheimer's patient, like a newborn, can feel emotions and reacts accordingly. They know when you're sad, happy, excited, anxious, or any other feelings you may be experiencing.
Above all, remind your mom or dad that you will return soon, then keep your promise.
If you are the caregiver
Do not be afraid to ask for help.

Open up to trusted family members or friends.

Give yourself permission to express your thoughts and feelings.

Seek professional help as needed: Involve a social worker and other knowledgeable members of the community who are ready to help.
There will be times when you will have difficulty handling your mom or dad. Please remember this does not make you a bad person. Taking a day off will greatly improve your own health and wellbeing.
If your mom and dad are in your own home, make your home as "friendly proof" as possible. Think baby proof. This will help prevent accidents.
Read everything you can about Alzheimer's to arm yourself with knowledge. Ask your parent's doctor questions. You can also contact and find help at the Alzheimer's Foundation.
Caregiver stress
Recognize the signs of caregiver stress. Some caregivers have difficulty accepting help, thinking they must do everything themselves. According to the Mayo Clinic, "This attitude can be harmful not only to the caregiver, but also to the person who has Alzheimer's." If you are the one offering a caregiver help, be gently persistent. Remind the caregiver that they don't have to care for their loved one alone.
As you watch and actively participate in your parent's care continue to be patient with them, and with yourself. Remember, you do not have to be alone in this journey and trial. There are loved ones surrounding you, and I promise the good you do for your parent will bring you great happiness now and after they're gone.