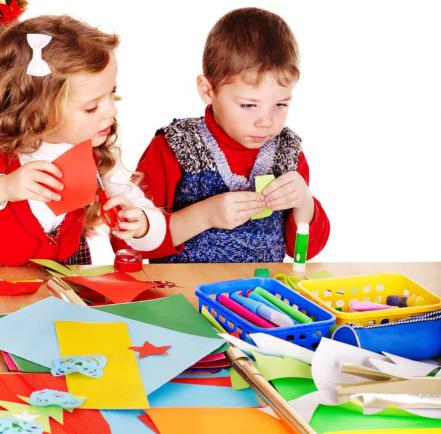 Creativity is a way for us to solve the many problems in our lives. It adds excitement to a monotonous routine and can help us be successful in many endeavors. Developing our creativity takes time, which is why it is crucial to help your children develop creativity while they are young. August 8 is Date to Create Day. This day is designed to help ignite yours and your children's creativity. Here are five ways you can help develop your child's creativity.
1. Craft time
Find a craft for you and your children to enjoy. You can tie fleece blankets, build a birdhouse, make cards, paint pictures and more. Spend the afternoon putting your creativity to the test. Let your children choose ahead of time what craft they want to complete and ensure you have the supplies ready. Then, just get to work. This is a great way to build memories and the perfect time to let your child ignite his or her creativity.
2. Write stories
Stories are an excellent tool to get the creative juices flowing. If your child is old enough, have him write his own story. If a little writer's block occurs, provide him with an introduction and let him tell the ending. If your child is not old enough to write, let him verbally share a story with you. Show excitement for the story and make sure to praise your child for his creative talent.
3. Unplug and don't rush
When you unplug from your electronics and avoid worrying about your to-do list, you can help your child's creativity soar. Make it a priority each day to spend one-on-one time together. Put away all of your electronics and read stories, do crafts and play games. When you spend time together without rushing, you will find that there is plenty to do and your child's creative juices can flow without interruption.
4. Don't be afraid of a little mess
Let your children be messy. Let them create their own games and play in the mud. Let them paint without worrying about the paint covering their bodies. Let your kids be kids and have fun while they do it. When you put a stop to the mess, you also stop the creativity.
5. Play with them
To help increase your child's creativity, play with her. Find a variety of games to play or let your children make up their own. Go to the park and let your children make up games on the playground equipment or simply create a blanket fort at home. The opportunities are endless.
To help develop your child's creativity, let her be a child. Let her create material items, stories, games and more. The more time you spend with your children, play with them and get them away from computer or TV screens, the more you will see their creativity grow.
Do you want to learn about other obscure holidays? Like our Facebook page for ideas, activities and more.