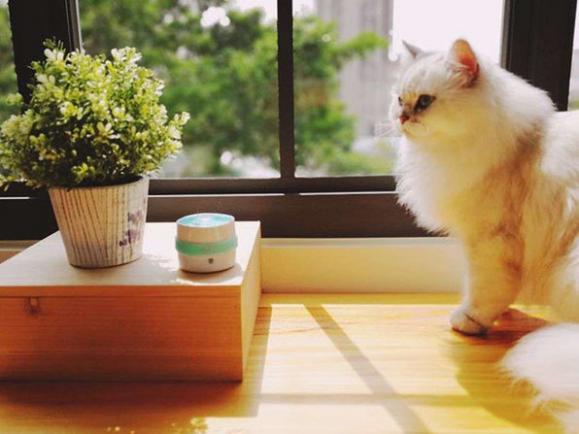 These products were selected by StackCommerce, which created these articles. The products are not endorsed by the FamilyToday editorial team. If you buy something through these links, FamilyToday may get a small share of revenue from your purchase.
Have you got kids? Pets? Laundry? If so, there's at least one room in your house that has its own special atmosphere. And we're not talking about feng shui. We mean odor.
Fans only do so much to get rid of pesky household smells, and no one wants to carry a bottle of Lysol around everywhere. If you want a more consistent solution, there are tons of air purifiers on the market. But up until recently, it's been a trade-off: You get better-smelling air, but you also have to find a place for that bulky, expensive purifier. In the best case scenario, you can expect to shell out extra every month or so for filters. In the worst case, your device might be "purifying" the air by introducing harmful gases like ozone.
Finally, there's a better solution that's especially suited for compact spaces. It's called the VentiFresh Plus, and its revolutionary design earned it almost quadruple the founders' funding target on IndieGogo.
Unlike other air purifiers, the VentiFresh has no filters to replace, and it doesn't emit anything but cleaner air. It draws the surrounding air into a central chamber that's bathed in two different kinds of UV light. The combination of UV-A and UV-C light can actually break down the DNA of many microbes and allergens, leaving the air that comes out significantly cleaner than what went in. UV-C light has been used to disinfect hospital environments and, more recently, as a commercial sterilizer to help lessen the risk of secondary virus transmission. It's just as effective here as a way to safely deodorize the air.
Best of all, the VentiFresh can go just about anywhere. At roughly 2 1/2 x 2 inches, you can carry it in your gym bag or stick it to the side of a toilet with the included gel pad.
Want to try it for yourself? The VentiFresh Plus is now 29 percent off the regular retail price for Family Today readers.
Image Credit: Pexels.com