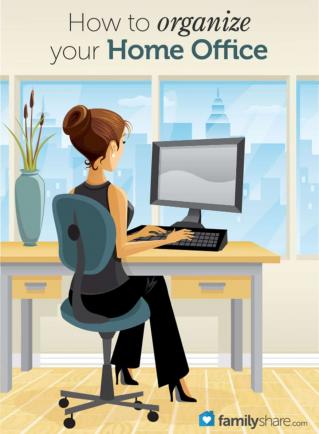 More and more people are using home offices now, and most absolutely love it. Eliminating the hassles of commuting is one of the biggest advantages, and having the refrigerator at hand isn't so bad either!
But when your boss isn't likely to drop by, and you can show up to work in your sweat pants, your special workspace can become something of a disaster area. Maintaining an organized home office isn't always easy, but it's important if you want be productive. Here are some ideas:
Make transportation easier. Is your home office a dedicated space for business, or do you need to share it with the household? For example, do you bring your work to the kitchen table to get it done? If so, create a way to transport files, papers, office supplies, and so on to and from the work station quickly and easily. Perhaps you can find an inexpensive filing crate or other container you can use.

Keep track of the little things. An egg carton can make an excellent corral for small office supplies like paper clips, staples, or push pins.

Solve cord messes by using adhesive Velcro strips to fasten surge protectors and dangling cords to the bottom of a desk. An inexpensive way to label cords is to use a blank address label for each one, written on and then folded back on itself.

Rearrange your environment to maximize efficiency. To keep your work area as clear as possible, think about how often you use the various pieces of tech equipment. If you rarely use the computer's CPU except for maintenance, tuck it away under the desk or somewhere out of the way. If you use the printer a lot, then give it a prime spot.

Consider hanging family pictures on the wall instead of placing them on the desk. Desk real estate is valuable and should be reserved for work.

Get comfortable. If you're able to purchase office furniture, pay special attention to the chair you'll sit in. Make sure it fits your body and is ergonomic. Chairs with casters help you transition from one task to another quickly. Put down a plastic floor mat to protect your floor from roller marks or scratches.
One of the advantages of a home office is that it is your own space. Personalize it with artwork, plants, family pictures, or anything else you want. Isn't it great that you don't have to ask the boss's permission? Sometimes it's these little things that help make this space a spot in which you can really get a lot accomplished.