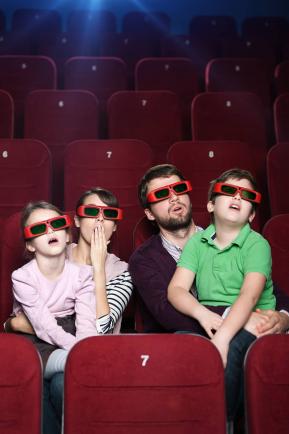 Family movie night is a time-honored tradition at many households. After a long week of work and school, bonding with the kids over a family-friendly film is relaxing for everyone. That is, until something inappropriate flashes across the screen and the parents leap across the couch to shield the kids' eyes.
We've all been there. You think you've picked the perfect film when, suddenly, something less than child appropriate takes place. It's embarrassing for the kids and for the adults, and it may lead to a discussion you did not want to have during family fun time. Fortunately, there are many ways to avoid an unwanted movie disaster.
The ratings
Ratings are your first line of defense when picking a good movie for the family. Many of us are familiar with the G, PG, PG-13, and R rating systems, but don't forget about the additional info contained in the rating information. At the bottom of the rating box, you'll always find information on why a film received the rating it did. Look for information such as: crude humor, disturbing images, nudity, violence and sexual content. These descriptions give you a preliminary guide to choosing a film for the family.
Go online
For more comprehensive information, turn to one of the many online review sites for families.
Commonsensemedia.org offers one of the most comprehensive and user-friendly review sites available. They not only rate movies based on morals but also on positive messages and positive role models. Another useful feature is the age guidelines they provide for each film. If you're wondering if a certain movie is appropriate for, say, your five-year-old, this is the site to check out. Common Sense Media also rates TV, video games, books, apps, websites, and music, making this website your one-stop for media reviews.
Pluggedin.com, sponsored by Focus on the Family, rates movies from a Christian worldview and includes ratings and an appropriate rating divided into kids, teens, and adults. This site gives remarkably detailed reviews in sections such as positive elements, spiritual content, sexual content, violent content, crude or profane language, drug and alcohol content, and other negative elements. The database is extensive and includes sections for music, videos, TV, and video games.
Kids-in-mind.com uses a 1-10 rating scale for sex and nudity, violence and gore, and profanity to assess the acceptability of movies for children. It also features a red, yellow, and green color coding system that is intuitive to use and gives quick feedback at a glance. The reviews are extensive, just watch for links within the site that may lead to outside content.
When in doubt
If you're ever unsure of a movie's suitability for your family, it's always a good idea to watch it without the kids first. To borrow a popular expression, kids are like sponges, and they can't un-see something once they've seen it. Your best bet is to err on the side of caution and pre-screen questionable movies first. As the parent, you have the power to ensure that movie night is memorable in a good way for every member of the family.