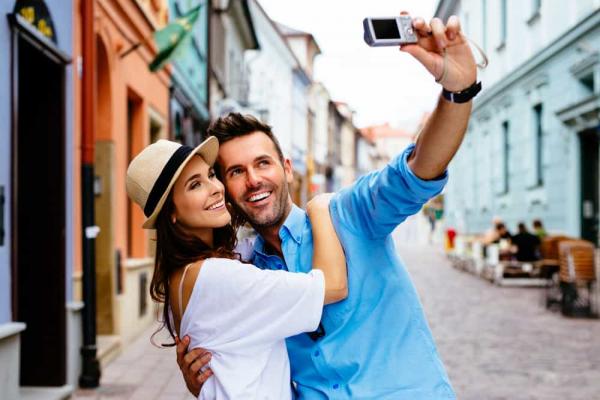 Whether you are planning a second honeymoon or an umpteenth honeymoon vacation for you and your spouse, you can make it special.
Here are some tips to help you with your planning.
Plan together
Typically, in most relationships there is a division of labor often based on who likes to do what sorts of things. Planning a vacation, however, is a duty you should share. Make sure that both of you are contributing ideas and that your respective goals for the vacation are achieved. If you love to golf and your spouse doesn't, planning a week of golfing every day will not be the ideal romantic getaway.
Choose a destination
The planning process can be somewhat circular, that is, you may need to consider many factors before you settle on a final destination. To begin you should choose a part of the country - or part of the world where you'd like to go.
Decide what to do
Knowing what you want to do on vacation is a key part of the planning. If you want to take photos of nature and your spouse wants to hike, a very different plan may emerge than if you want to surf and your spouse wants to snorkel.
Plan your travel
Now that, you have a general idea of where you are going and what you are doing, you'll want to decide how you'll get there. There are multiple options from driving, flying and taking the train to taking a cruise. Give consideration to your budget and the activities you enjoy as you choose. Be sure to book your travel well in advance; occasionally, you can get better fares by waiting, but be sure to consider the risks.
Pick your lodging
Unless you have booked a cruise, you'll likely need to pick a place - or multiple places - to stay while you are on vacation. There are countless sites on the Web to help you choose, but I recommend TripAdvisor.com. Not only can you use the site to choose among traditional hotels, but you can also select less traditional arrangements like renting a condo or a house in your destination city.
Schedule your activities
Many vacation activities, like relaxing over a long meal or reading a book, don't need to be scheduled. Others, like riding a bike down a volcano, not only need to be scheduled on your calendar, they need to be booked in advance. But, don't overschedule. Leave plenty of time for relaxing and discovering something special to do.
Write it all down
As you sit at the computer together eagerly planning your trip, it all seems so exciting and clear in your minds. Three months later, it may be hard to remember the flight number, where it connects, the name of the ship or the resort, etc. Write everything down. I like to put it all in an electronic form, then send it to my Gmail account so I can access it right on my phone or from any computer with an Internet connection.
Now you're ready to plan and have a vacation for two that will create memories to last a lifetime.