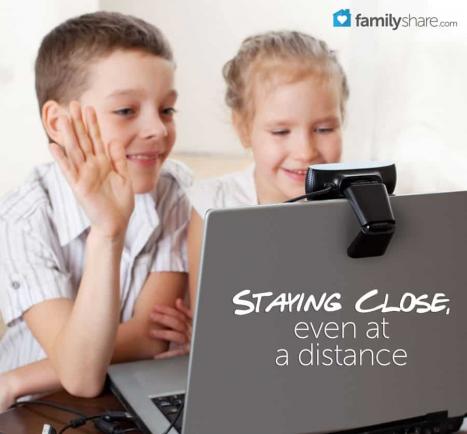 Building and strengthening relationships over long distance isn't easy. While "absence can make the heart grow fonder," it takes active work to keep a relationship strong while family members are apart.
But even if the whole family isn't able to gather around the same dinner table every night, there are ways to keep the relationships strong. Modern technology has created new, easy ways to keep in touch. Some of these include:
Cell phones
Most cell phone plans include nationwide free long distance, making it easy to pick up the phone and talk. You can even conference call and get more people involved. Use the speakerphone setting at family gatherings to include everyone.
Text messaging
With texting, you don't have to wait until the family member is free to talk. The nice thing about texts is you can send them out at any time, and the receiver can look at it whenever it is convenient for them. It's an easy way to exchange quick messages without fear of disrupting the family member's schedule. Take a picture with your camera phone of what you're up to at the moment and attach to the message for added fun.
Video conference
Skype, Google Hangouts, or FaceTime are simple, free programs that allow you to chat online with anyone who has internet access. The bonus: you can see the person! Video conferencing has become an excellent way for family members to stay close, especially when kids are involved. Children are more engaged in conversations that include visuals. Through video conferences, family members can enjoy interacting and seeing the young ones grow up and change. The possibilities are endless, for example: Grandmas can read bedtime stories to their grandchildren who live in other areas over Skype, as a fun way to build their relationship.
Blogs
Blogging has become a fun way for families to keep in touch. There are plenty of free blog hosts, such as Blogger or WordPress. It's a great way for people to read about family activities and enjoy photos. The comments feature is a great way to turn the blog into a two-way conversation.
Letters and packages
Even though these modern methods are quick and convenient, a handwritten letter can become a treasure for family members who find themselves living away from home. Letters can be read and enjoyed over and over again, as opposed to a phone call, which is fun but soon fades. And who wouldn't want to receive a package of fun, personally selected treats and small gifts? It's almost like opening up a box of home. For a person who is away for a long time, you could even use your local newspaper as packing material for another dose of home.
Whatever way you choose to do it, the main goal is to become involved with and sincerely care about the family member who is far away. Stay updated with their concerns and goals, and let them know that even though you don't live under the same roof at the moment, you still love them and think of them often. With effort, the relationship can grow and strengthen.