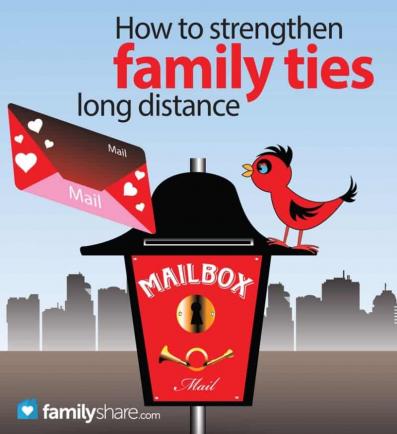 I grew up in California. My husband grew up in North Carolina. Inevitably, we would not live close to one or the other family. That has been true over the past 25 years of our marriage. We have lived close to one or the other and we have not lived close to either. It is a fact of our modern and mobile society. And yet we have remained close with both families over the years and helped our children develop bonds with both sets of grandparents and aunts and uncles and cousins. Here's how.
1. Phone calls
An old telephone commercial's slogan was, "Reach out and touch someone." With cell phones, Internet phone service and long distance contracts, it has never been easier. I have always spoken on the phone with my parents at least once a week. My sister and I also talk frequently. Texting is another way we communicate. Often when shopping I will take a picture of an item and text it to my sister and mom for their opinions. It is like they are shopping with me.
2. Blogs
My oldest daughter has a great blog. She lives in California with her husband and baby, so we love to check her blog to see the most recent pictures of our granddaughter and hear of her antics. My family had a group blog for years which all of us could contribute to. The cousins loved the chance it gave them to exchange stories, pictures, or greetings.
3. Social Media
One of the best ways we have to stay connected is through social media such as Facebook. I can keep track of my many nieces and nephews and their families. I have gotten closer to many on my husband's side of the family though they are busy raising their own families and don't all live close to us.
4. Skype or Face Time
Our daughter at college loves to call using her Face Time capability. We love being able to see her and her roommates and friends. We are looking forward to our granddaughter being old enough to Skype with us. When my brother and his family lived in Tahiti it was wonderful to chat with them over the Internet and see their faces.
5. Mail - traditional and email
When my children were small they loved to get packages in the mail from their grandparents. Both sets made sure to send things just for them. This let them know they were thought of and loved. We enjoyed sending letters and pictures so they could see their grandchildren growing up. After my husband's parents passed away we found all the pictures and letters we had sent. They had saved every one of them. Now my parents send emails to us and my children.
6. Family reunions and get togethers
My family holds a week long reunion every other year. It is a wonderful time to reconnect and have fun together. My husband's family lives closer and we often try to meet for dinner at a restaurant during the year. Each Christmas we gather for a potluck. This helps my children establish ties with their extended family.
7. Create long distance traditions
Be creative and think of ways to establish ties. My mother was very sad when we moved to North Carolina the first time. Our 3-year-old daughter was her only grandchild at the time and it would be the first Christmas we were not at my parents' home. So my mother created a Christmas countdown of 24 small gifts. A poem written especially for our daughter explained the count down. It has since become a tradition in the family with each grandchild receiving their own poem and count down gifts especially for them.
Being far from loved ones is never easy. Yet, if we make the effort we can still have a close relationship. It is the love we have that ties us together and reminding one another of that bond often can only strengthen it. A popular quote from Kay Knudsen says, "Love is missing someone when you're apart, but somehow feeling warm inside because you're close in heart." Make the effort to keep your family close in heart. We all will be better for it.