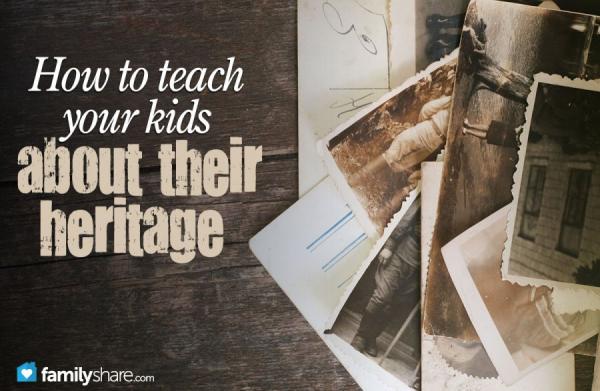 If you want to share this appreciation of heritage with children, you can create and play an ancestry game with your kids. The game will be a wonderful tradition to pass down to generations especially if your unique game includes facts about the cultural backgrounds, music, food, and traits of your ancestors.
How to Make Your Own Heritage Game
By following a friend's sample, I created a card deck of my ancestors which our children use to play different games using rules similar to "Memory", "Go Fish", Old Maid", and "Bingo". You can do the same by following these steps:
Gather photos of grandparents, great grandparents, and even a few great great grandparents. (I collected 18 individual photos.

Scan each photo and resize them to fit 9 photos on an 8 ½ by 11 page (each photo should be about 3 inches x 4 inches). Next, type the name and the grandchild's name at the bottom of each photo. Also add the native country of the ancestor. For example, underneath the photo of Great-grandpa James, we wrote "James G. Widdison, Scotland, Jelean's Great Grandfather."

Make two copies of each ancestor to be used in the games. Print on photo paper.

Laminate each page then cut out individual pictures. (I placed the card deck of ancestors in a small sturdy plastic box purchased at Wal-Mart.)

Use these cards to play games and teach children who their ancestors are!
Our children and grandchildren love the game. Our granddaughter Eva memorized most of the ancestors at age 4. She was tough to beat at "Memory." The family game became a great method of matching names of progenitors with their faces.
Here is a list of other ways to teach children about their heritage:
Attach a map on the wall and have children take turns putting small flags on the countries their ancestors had come from and discuss with them their traditions, their language, and valued principles.

Search your home for all the data you can find, then talk to older family members about your information. They might know of traditions, hobbies, occupations, and traits of their ancestors. Maybe your children possess some of the same traits. You might be able to find out their favorite foods. We discovered some of our ancestors settled in Star Valley Wyoming. Star Valley Pudding was a town favorite. The delicious recipe was passed on from generation to generation, and now it has greater meaning to our family

Visit ancestry countries. Judy found family records in England. She made stops to cemeteries, homes, churches, etc. She had her photo taken next to her ancestors' various sites. She shared her findings, photos, and experiences with her children.

After research, suggest children write a poem or story about one of their ancestors. Have them share their report with family members.

Go on a drive with a grandparent or great grandparent. They may be able to point out old family homes, establishments, work places, churches, cemetery headstones of their deceased progenitors.