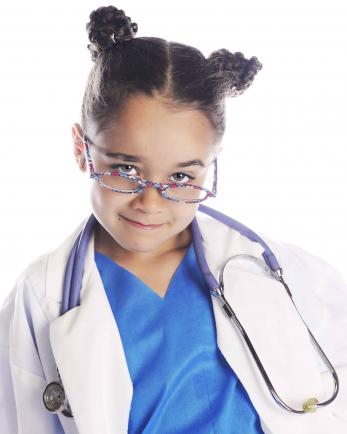 It's never easy helping your child choose a career path. Parents want only the best for their kids. For many, lucrative jobs in engineering, medicine or technology hold the keys to a fulfilling and successful life.
But what if your child doesn't think so?
Would it break your heart if your kid wanted to pursue a career in non-profit? Is there a right or wrong way of steering kids towards the "right" jobs?
How parents and children feel
You're not alone in feeling anxious for your child's future. Your son or daughter may be more worried than you are.
In a 2013 report by ACT.org, most high school students have a tendency to choose college majors that don't interest them. Out of 80 percent of ACT test-takers who knew which degree they would pursue, only 36 percent chose a major that suited their interests.
But according to counselors, that's not surprising. There are plenty of factors that make this process difficult for youngsters. These can include any of the following.
General outlook about the world

Guidance from the school or parents

Employment forecasts

Economic and social changes

Media and peer pressure

Personal interests and hobbies
As it's understandably challenging for kids to decide on careers early on, some moms and dads seriously take on the task to help. According to a 2016 survey by the American Society for Quality (ASQ), 90 percent of parent respondents would steer kids in STEM (science, technology, engineering and math) careers. However, 87 percent admitted concerns if their children pursued jobs as STEM teachers.
Participants reported they would prefer their kids to practice careers as doctors, engineers or anything computer-related. But why? To those being surveyed, STEM teacher pay was a huge issue, with 70 percent of parents expressing pay as a major problem.
If your son or daughter is considering becoming an educator, don't fret just yet. Remember kids, especially teens, are still indecisive about what they want to be when they grow up.
In Texas, for instance, eighth graders feel pressured to pick a career path together with the school's counselor. Counselor Bethanie Skipper, who helps students chart employment paths, says it's OK for kids to be confused:
"You're picking a choice, but I'll tell you right now this doesn't mean we're with this to the very end." Skipper added, "We're just going to take these classes and if we need to make a change we go back to the drawing board."
How parents can help children
According to America's Career Resource Network, parents have the greatest influence on a child's career choices. Sound stressful? Here are simple things you can do every day to begin instilling a sense of choice in your young ones.
1. Be observant
Children showcase special talents or preferences early on. But at this point, it's too early to assume they'll be in a certain role simply because of their likes. Remember kids change.
To encourage healthy choices, opt for themes instead of specifics. When you might be tempted to say "My child loves drawing, so she's going to be an artist," try saying "My child likes expressing her thoughts in creative ways." This opens up doors and helps avoid labels.
2. Encourage goals
It's normal for kids to say, "I want to be the world's greatest doctor!" or, "I'll play in the NBA when I grow up." But as a parent, it's important to make goal-setting realistic and attainable. Child and adolescent psychotherapist Katie Hurley, LCSW, suggests breaking down goals into bite-size objectives with a deadline.
If your kid wants to play in the NBA, for example, encourage him to sign up for his school's team first. Then you can work with him to make at least two baskets each game.
Having realistic yet challenging goals helps children become responsible, confident and resilient individuals later on.
3. Nurture relevant skills
Ensuring your children are equipped with decision-making capabilities will make the road towards fruitful careers less bumpy.
Author and educator Jim Taylor, Ph.D. recommends coaching kids towards decision-making skills slowly. For example, if your child dreams of becoming a vet, give them real opportunities they can take part in. Accompany them to career fairs, let them volunteer at animal shelters, etc. Showing them the behind-the-scenes work to their chosen careers helps them get a sense of what their future might be like.
As a parent, journalist Cindy Krischer Goodman of The Miami Herald also has the dilemma of steering kids towards fruitful careers. More than just paychecks, she hopes she will help her daughter navigate through the complex and sometimes disheartening labor market:
"I also want my daughter to have enough room in her choice to create the kind of work-life balance that allows her to earn a good paycheck without sacrificing family, health or sanity."
The parents Goodman interviewed for her article share the same sentiments. Ginny Simon, founder of Ginnybakes and mother of four sons, said, "Do not lock yourselves in too tightly. Make sure there's room for movement in whatever field you choose."
Meanwhile, law firm executive chairman and father of four Cesar Alvarez advises his children to focus on transferable skills. Because supply and demand will dictate career choices after high school, having a back-up plan is crucial.
Parents have a huge role to play as career influencers. They are the ones who ensure kids are prepared for a demanding world. Perhaps the best way to steer children towards a brighter tomorrow is to assure them that they always have a choice. And, more important than acquiring the right skills, is being armed with strong values.
Your kid will need your help every step of the way. And while he or she may not always heed your career advice, at the end of the day, if they're happy, that's OK.