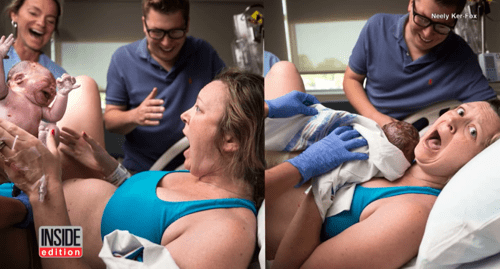 It's no wonder some women like to have a photographer capture the special moments of childbirth. When you see a mother's pure joy that comes from seeing her baby for the first time, you want to hold onto that moment forever.
For Dara Crouch, having a photographer there during her labor was extra special because she didn't know the gender of her baby.
Nowadays, opting to keep things "old-fashioned" without a pre-planned gender reveal is uncommon. Grand gender reveals have taken over the internet, and most parents can't wait to find out the gender of their baby and throw a party to celebrate their soon-to-be baby girl or boy.
Crouch, however, didn't think her baby's gender would come as a surprise
"I just knew I was having a girl," she told Today.
No one on her mom's side of her family had given birth to a boy in more than 50 years.
The mother was positive her first-born daughter, a 3-year-old named Neyland, was definitely getting a baby sister.
After four hours in labor, the unimaginable happened
Crouch gave birth to a son, the first boy in her family in over half a century.
The new mother of two couldn't contain her excitement. "Oh my gosh!" she cried. "It's a boy; I can't believe it's a boy!"
Crouch said seeing her newborn son made her feel "shock, more than anything."
It was a special moment for everyone in the room
Neely Ker-Fox, a friend of Crouch's, was the photographer who captured the special event. She has shot more than 100 births since 2011, but her friend's reaction to her son was special.
"I've seen surprises, but Dara had by far the most genuine reaction," she said.
Crouch gave birth to her son at St. Francis Hospital, where she has worked as a labor and delivery nurse for seven years.
Her best friend and fellow nurse was able to assist with the labor, along with two other midwives.
"As a labor and delivery nurse you get the emotions going on in the room ... you sometimes bond a lot when you've been taking care of someone for 12-plus hours," Crouch said of her work. "But nothing compares with the excitement I felt with Liam."
This sweet miracle boy better be ready for some love and coddling from all the women in his family, who must be thrilled to finally have a baby boy!