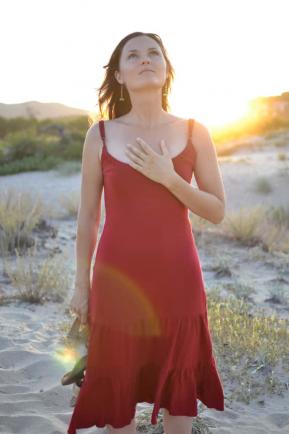 Recently my gratitude was tested. Something I was waiting for for two years was taken away without my choosing. Instead of remembering all that is good in my life I focused on my loss and felt hurt, dismayed and even bitter. My mind drifted to Job, a man in the Old Testament who experienced tremendous loss but viewed his misfortune very differently than I viewed mine.
Job was no ordinary man. God the Father acknowledged Job's righteousness saying, "There is none like him in the earth, a perfect and an upright man"Job's integrity, patience, meekness and obedience all testify of his greatness, but it is Job's grateful heart that stands out to me.
Bad news is brought to Job like ocean waves falling in succession. All of his 500 yoke of oxen, his 500 asses and his 3,000 camels are stolen. His 7,000 sheep are burned by fire. Several servants are killed. Following these calamities, Job learns that all his children, seven sons and three daughters, have died by a force of nature. Immediately Job falls down upon the ground, and offers a prayer of gratitude. A prayer of gratitude! Job thanks God uttering these now famous words: "The Lord gave and the Lord hath taken away: blessed be the name of the Lord."
As if these material trials aren't enough, Job's physical body is attacked and boils, puss filled blisters, break out over Job's body. Satan believes Job will curse God. Job's wife taunts him to do so. Job's friends, three miserable comforters, rebuff him. But Job does not yield exclaiming, "I know that my Redeemer liveth." No cynicism. No bitterness. No anger. Only testimony that God knows who Job is, what he is experiencing and that in time, during his lifetime or following his death, God will bless him.
Having been proved faithful, Job is blessed by God with doubling of property and possessions. If Job had not received a portion of blessings equaling his losses, would he still have been grateful in his want? Yes! Here are suggestions for possessing a grateful heart.
Practice saying thank you
Job's gratitude surely is the result of a lifetime of being grateful. Saying thank you when someone passes the salt, sweeps the sidewalks, makes the bed or lends a hand gets us in the habit of gratitude. If you've fallen out of the habit, it's never too late to begin saying thank you.
Pray
Job was wealthy but not caught up in his wealth because he recognized where it came from. "Naked came I out of my mother's womb and naked shall I return thither." Prayer helps us remember the eternal truth that God is the source of our blessings.
Avoid online comparisons
Gratitude, or happiness for that matter, should not depend on how much we have compared to another. Social media makes it so easy for people to flaunt their positions and possessions. If social media comparisons are hurting your soul, causing you to envy, log off, de-friend and disengage. You won't regret it. Sarah Ban Breathnach asks, "How many of us go through our days parched and empty, thirsting after happiness, when we're really standing knee-deep in the river of abundance? Choose to quench our thirst for the 'good life' we think others lead by acknowledging the good that already exists in our own."
Cherish simple gifts
Often the simplest things mean the most: a parking spot right up front for an expectant mother, a comfortable chair for someone suffering from back pain, finding a coupon for the most expensive item on our grocery list, a good Samaritan opening the door when our arms are holding a wiggly child or a hug just at the right moment. If you need a jumping off point, flip through 14,000 Things to be Happy About for some quirky ideas. Cherish the simple gifts around you and your heart will swell with gratitude.
Celebrate the success of others
Charlie Brown had it rough. Lucy always pulled the football out from under his punt, he got rocks instead of candy on Halloween and he wasn't invited to parties. But you never get the sense that this adorable Charles Schulz character was angry at those around him. Be happy for others and you'll feel happy too.
Take note of blessings
Jotting down three-five blessings in a gratitude journal every night before bed grounds us. "When we do a mental and spiritual inventory of all that we have, we realize that we are very rich indeed." Simple Abundance
Job's greatness is found in his grateful heart. Gratitude can be our greatest strength if we practice it daily.