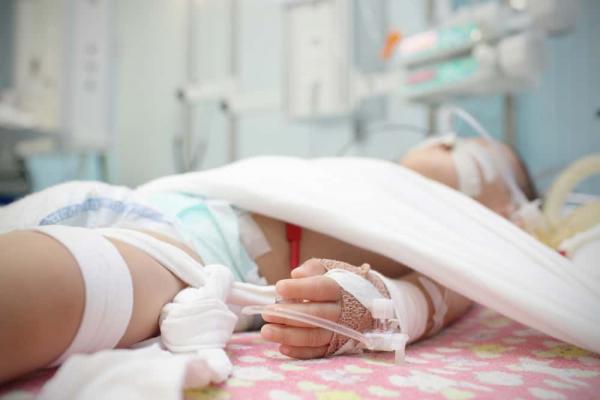 Tiffany Gilliam had no idea what lay in store for her when she answered a phone call from her husband. He told her that he and their son, Braedyn, had been in a four wheeling accident and Braedyn was severely injured. When she asked him if Braedyn would make it, her husband was silent. Terrified, Tiffany dropped to her knees and began praying for her little boy. After saying, "amen," she called friends and family asking them to pray for Braedyn as well.
Her husband greeted her at the hospital with tears streaming down his face. Their little Braedyn was in terrible shape. Tiffany found her boy with his head caved in on the right side and blood coming from his eyes, ears, nose and mouth. His pelvis was shattered and the doctor said that he was bleeding internally. Things did not look hopeful. The doctor told the parents that Braedyn had to be flown to another hospital in Missouri that would have better medical care for Braedyn's condition. However, the doctor gravely added that he was not certain their child would survive the flight.
They chose to take the chance, and Tiffany was allowed to ride in the helicopter with her son as they raced him to the other hospital. In the air, Tiffany prayed once again and begged God to heal Braedyn's little broken body. She said, "I told God I knew Braedyn was only on loan to me, but I wasn't ready to not be his mommy. I fully trusted God that He would take care of my baby boy."
When they finally arrived at the other hospital, things sprung into action. Amidst the hustle and bustle, Tiffany was taken to a separate room where she continued to pray. After about 40 minutes of prayers and tears, a doctor entered the room with a look of complete shock on his face. He said, "I can't explain what happened. I thought I was going to be telling you there was nothing we could do, but instead I get to tell you that you are very lucky."
Tiffany and her husband were sure to clarify to the doctor that they were blessed - not lucky. God blessed them that day!
They had redone all of the tests and x-rays and couldn't find a single broken bone in her son's body. His head was no longer caved in and the internal bleeding had stopped. Other than being badly bruised, he had been healed. It was a miracle.
A few weeks later, the walking miracle returned to their family doctor's office for a check-up. He cried and hugged Braedyn saying, "I prayed so hard, but I never thought I would see this little guy again."
It seems God had listened to the fervent prayers of friends, family and doctors and done the impossible. He gave life to a little boy and renewed faith to so many others. Braedyn is living proof that miracles really do happen.