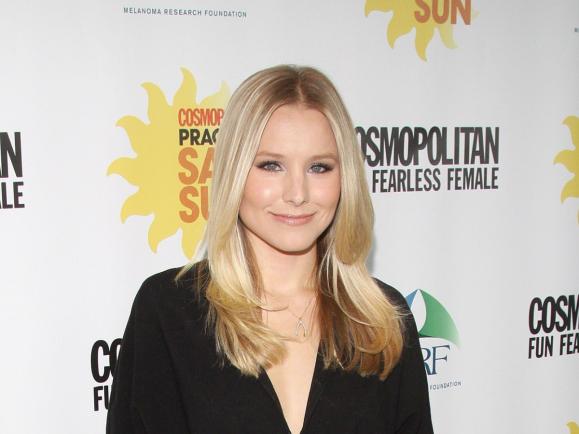 During a recent visit to "The Kelly Clarkson Show," actress Kristin Bell admitted that sometimes her children drink non-alcoholic beer, and she doesn't care about other people's opinions. The 43-year-old and husband, Dax Shepard, share two daughters, Lincoln and Delta, and they seem to have sophisticated palates to be so young.
Still, Bell explained that their affinity for non-alcoholic beer makes sense if you understand the backstory. While telling Clarkson about the family's recent trip to Disneyland, Bell said, "My kids have ordered non-alcoholic beers at restaurants before, which sounds insane if you don't know." Bell shared that their taste for non-alcoholic beer came from their father, a recovering addict who drinks alcohol-free beverages occasionally.
She recalled, "He's a recovering addict, but he likes non-alcoholic beer, so he'd pop one open. He'd have our oldest daughter on his chest, and we'd walk and look at the sunset. As a baby, she was pawing at it, and sometimes she'd suck on the rim of it. So I think it feels to her like something special, something daddy, something family."
Bell clarified that there's no alcohol in the drinks but admitted it could be embarrassing at restaurants when her daughter asks the waiter if they serve non-alcoholic beer. She said, laughing, "We've been at restaurants where she's said, 'Do you have any non-alcoholic beer?' and I'm like, maybe we just keep that for home time. But then I'm also sort of like, you can judge me if you want. I'm not doing anything wrong. Like that's your problem."
Bell has a history of being very candid with her children about her husband's history of substance abuse and other topics that most parents would avoid. Earlier this year, she told Real Simple, "I hate the word taboo. I think it should be stricken from the dictionary. There should be no topic that's off the table for people to talk about. And I know it's shocking, but I talk to my kids about drugs and the fact that their daddy is an addict and he's in recovery."
She continued, "We talk about sex. There are all these 'hard topics' that don't have to be if you give the person on the other end your vulnerability and a little bit of credit." Shepard has been open about his struggles with alcohol and drug addiction, even openly announcing his relapse in 2020 after 16 years of sobriety, which he discussed with his children. In 2021, Shepard told Chelsea Clinton on her "In Fact" podcast, "They know that Dad goes to an AA meeting every Tuesday and Thursday. We tell them the whole thing."
Some parents may judge Bell and her husband for allowing their daughters to drink non-alcoholic beer. However, every couple parents differently. Bell's parenting style is refreshing, and whether you agree with giving your children non-alcoholic beer, anyone who wants to pass judgment won't get a response anytime soon.