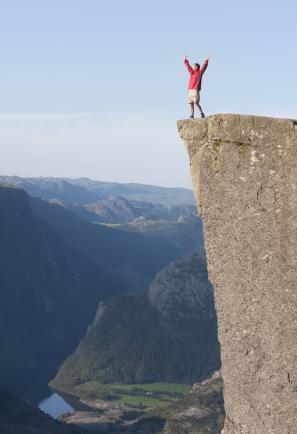 We live in a world where our children can sometimes become doubtful of their own abilities. Teaching them how to humbly let the Lord work in their lives is a great way to empower them to face their challenges. The Lord gives us all weakness, not to make us suffer but to make us strong. Some of us need to discover our own inner strength. Others need to learn to rely on the Lord and His grace.
This lovely quote says it perfectly: "When God pushes you to the edge, trust Him fully, because only two things can happen. Either He will catch you when you fall, or He will teach you to fly." Thank you, eloquent unknown person.
There are many stories in the scriptures that help illustrate this. Choose these or your own favorites, and study them as a family, explaining how you can all learn about becoming mighty in the Lord.
2 Corinthians 12:9-10
9 And he said unto me, My grace is sufficient for thee: for my strength is made perfect in weakness. Most gladly therefore will I rather glory in my infirmities, that the power of Christ may rest upon me.
10 Therefore I take pleasure in infirmities, in reproaches, in necessities, in persecutions, in distresses for Christ's sake: for when I am weak, then am I strong.
These verses instruct us to show gratitude for our shortcomings, for the grace that comes from our knowledge and faith that what the Lord did for us is real and will fill in the gaps. We must still do all we can to live up to this precious gift, but acknowledging it, along with our own human frailties, is the first step.
2 Chronicles 27:6
6 So Jotham became mighty, because he prepared his ways before the Lord his God.
In this particular case, Jotham was rewarded with strength and power for his humility and obedience. I'm sure he felt the way most of us do when asked to do something we esteem greater than us. We doubt. But obedience brings spiritual confidence and, with it, mightiness. Our job, then, is to not become proud, but to remain humble instruments in the Lord's hands.
Hebrews 11:33-34
33 Who through faith subdued kingdoms, wrought righteousness, obtained promises, stopped the mouths of lions,
34 Quenched the violence of fire, escaped the edge of the sword, out of weakness were made strong, waxed valiant in fight, turned to fight the armies of the aliens.
A beautiful compilation of instances where the Lord rewarded faith with strength.
1 Samuel 17:49-50
49 And David put his hand in his bag, and took thence a stone, and slang it, and smote the Philistine in his forehead, that the stone sunk into his forehead; and he fell upon his face to the earth.
50 So David prevailed over the Philistine with a sling and with a stone, and smote the Philistine, and slew him; but there was no sword in the hand of David.
One of the most well-known stories of might in the Lord. We all have giants in our lives, but with faith and reliance on the Lord, we can slay them.
2 Corinthians 13:4-5
4 For though he was crucified through weakness, yet he liveth by the power of God. For we also are weak in him, but we shall live with him by the power of God toward you.
5 Examine yourselves, whether ye be in the faith; prove your own selves. Know ye not your own selves, how that Jesus Christ is in you, except ye be reprobates?
This is one of the most important of all the illustrations - the story of our Savior and the promise of hope. We are not reprobates, and we shall, through our faith, rise and live again with Him.
One of my favorite stories of faith and might is that of Abraham and Isaac. This is a clear case of the Lord giving a trial to a man to show the man, himself, his own strength. The Lord knew what Abraham would choose to do. He knew of Abraham's faith. But Abraham needed to see for himself how faithful he was. He was given the might to sacrifice his own son, if that was the Lord's will, but he was rewarded with not having to. It left him with a better sense of his own strength and faith.
If we teach our children about faith, they will shine through their trials like a beacon to the world. If they lack faith, we need to teach them to pray for it. Remind them to always remain humble, malleable, trusting and reliant on the Lord.
Take time to study with your family, sharing favorite scripture stories and showing how anything is possible in the Lord.