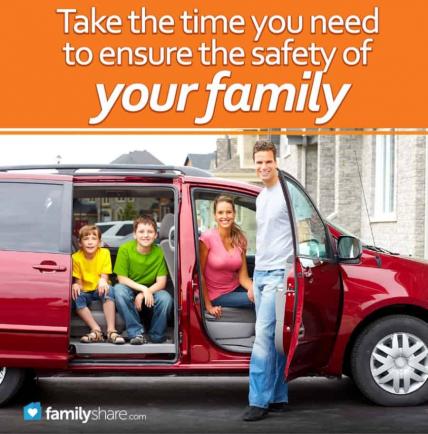 Before you ever set foot inside a dealership showroom, do a little research on the Internet. By searching for safe family cars, you'll discover sites to help you narrow down your choices. Here are some excellent resources:
Kelley Blue Book
at http://www.kbb.com. You have two options: Select a specific make and model to research new car safety features and crash test ratings; or select a category of vehicles (i.e. Wagon, SUV or Minivan) and discover expert ratings and owner ratings on all different makes.
Edmunds
at http://www.edmunds.com. This site provides numerous family and safety articles as well as links to where you should go to find out car safety ratings. Just click on "How to Check Car Safety Ratings" to learn more. Two of the major links on this site are The National Highway Traffic Safety Administration (NHTSA) and The Insurance Institute for Highway Safety (IIHS).
If you are looking for a safe "used" family car, check out the section on About.com at http://usedcars.about.com/od/safetyratings/ig/Safe-Used-Famiy-Cars. They have compiled a list of the top ten safest used cars for families under fifteen thousand dollars—a handy and convenient resource if you're looking to save time.
The NHTSA website provides consumer complaints related to safety of specific vehicles. Go to http://www.nhtsa.gov/cars/problems and click on consumer complaints to get an idea of whether a car is a good investment or not.
The Center for Auto Safety at http://autosafety.org also provides detailed information about auto recalls.
Ask Friends
Once you have checked out these websites and narrowed your search to a particular model, consider asking friends, family and other car owners about their experiences driving a particular make.
Test Drive
Now that you know the exact make and model you are interested in purchasing, make sure you test drive each vehicle. In my family's case, we found a minivan online which described it as "roomy." Upon test driving it, we found that our six-foot seven-inch son did not fit into the passenger seats comfortably, and we had to start the process over.
Get a Vehicle History Report
Ask for a detailed vehicle history report (CARFAX). However, it's important to understand that these reports do not contain accident information that was never reported. Consider taking the vehicle to a trusted mechanic who will thoroughly go over it to discover any evidence of prior accidents.
Take Your Time
Finally, take your time in purchasing your new or used vehicle and research it thoroughly. Don't let a salesperson pressure you into making a fast decision.
Following these tips can make the search for a safe family car frustration-free. Try them the next time you're looking to buy a new family vehicle.