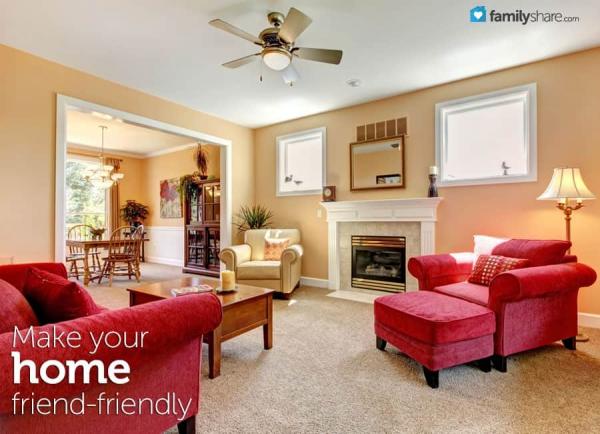 When my wife and I were first engaged we talked for hours about how many kids we would have and how we would raise them in a home full of fun, love and learning. We had it all planned out. Fourteen years and five kids later we are wondering what on earth happened to that dream. We now spend our days herding kids to do homework and chores, and coordinating carpools to and from extra-curricular activities.
When you add in the fact that each of our five kids have a handful of friends who will often drop by or call the house at the most random of times, it is no wonder we end up with complete chaos. (The type of chaos that causes you to consider moving away to the countryside where friends are far away and life seems so much simpler.) Since running away from the craziness isn't a viable alternative for us we have decided as parents do what we can to fulfill that initial dream by trying to make your home a place where our kids and their friends feel welcome and comfortable -no matter how crazy things are. This is not easy, but you can start with small things.
Snacks, snacks, snacks
For example, you can stock up on candy, popcorn and chips. It's a fact that kids and teenagers eat a lot. If you don't have the snacks they like, they'll just go somewhere else. We think it is better having your teenage kids hanging out at your house -where you know what they are up to. So, we try to stock up on goodies. There is a delicate balance between encouraging healthy eating and providing too much in bad sugars and saturated fats. We are not saying you should replace your healthy meal strategy and break Mom Rule 25 (become a competent chef), but we are saying you should also stock up on the yummy foods that encourage them stay home instead of wandering the neighborhood.
Everyone loves a cookie
You could take providing snacks one step further and be the Cookie Jar Lady. Every neighborhood has one. You know, the kind women who always have cookies for the neighborhood kids. Our Cookie Jar Lady once told us that the one thing she could do to make her feel like she was a good mother was to always have a jar full of cookies. Other, more complex, parts of motherhood she said she may not be able to control or manage, but always having cookies for her kids, and now the neighborhood kids, was one thing she could stay on top of.
Breakfast club
We also welcome friends to come by before school and have breakfast with us. We find that some of these kids don't have that opportunity at home and like the feeling of sitting down with us before the school day begins.
Whatever it is you can do to make your home feel warm and welcoming will not only be good for your kids but their friends as well.