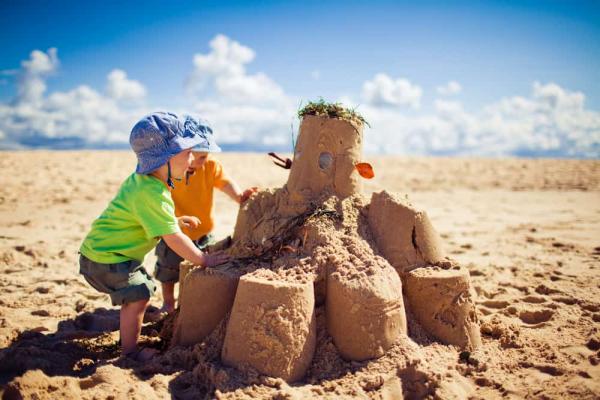 When our family was younger we traveled 14 hours to Oregon from Utah by car, and spent two weeks in heaven. It was a harrowing trip with six kids in an old Volkswagen Van with no air conditioning, stopping for the frequent "I have to go to the bathroom!!" When we arrived we always hit the beach as soon as possible. We all looked forward to this trip all year long, and hated to leave.
We are a Mother and Daughter, Shannon and Erin, who want to give you some advice from our frequent trips to the beach. Your trip may not involve seemingly endless car trips, or six kids with nothing to do but moan about the distance, but with some planning it could be one of your favorite memories!
Tips from Shannon
Are we there yet? Are we there yet? Are we there yet? You may ask why any sane women would cart six children alone 13 hours to the beach? Like a salmon swimming upstream, I was going home. In 1921 my great-grandmother bought a house at the beach. I spent all my summers there. I have been a full-time Seaside resident for 20 years now.
So, going to the beach? Here is advice from a true local. Born and raised at the beach:
Research
When planning a trip research online. Then call local establishments and get the scoop. Ask for advice. What time of year has the best weather, what local activities are a good value and where do locals eat? We love to share our insider info.
Consider a bonfire
The ocean isn't always warm and day or night, when you're wet and it's breezy, a bonfire is a warm gathering place.
Know the driving rules
Driving on the beach is great if you're experienced and it's allowed. Tow companies will not always tow on the beach and yes, cars have washed away. Never drive on soft sand, avoid getting your engine wet in salt water and know your local beach speed limit. Most importantly, watch for dogs and kids.
Use what you've got for sand castles
You don't need to buy the expensive sets locally. Bring containers you never want to use again like old yogurt containers, coffee cans, spoons or old cups. They work just as well and bring out the little creator in all of us. You also don't have to pack them home if you run out of room, just recycle them.
Wear shoes
Not all beaches are safe to go barefoot on. Some have sharp rocks or broken shells which can be hard on tiny feet. Buy water sandals that stay on and don't cause blisters. Break shoes in. New flip flops often cause blisters between tender toes - no fun on vacation!
Play beach sports
Try new things wisely! What is a vacation without a trip to the hospital? A good one! Buy travel insurance or bring insurance or medical information you may need. Many surf shops have local pros who will do group lessons for a reasonable rate. Try to investigate rentals instead of buying.
Slow down!
One of the best parts of being on the beach is wandering aimlessly following children collecting shells in bread sacks, or laying in the sun while they spend hours trying to keep the moat around their sandcastle full.
Create your own magic
One of our favorite memories was a treasure hunt. Our grandchildren had just read a pirate story. We crumpled a brown piece of paper until it felt like leather, drew a map with x marking the spot and hid it in an old roll top desk. Their hearts leapt when they found it. We followed them, as they followed the landmarks and then in the wind and rain stood by while they dug up my old jewelry box full of broken pearl necklaces and treasure.
Several years ago my children dug up an old sea chest, only to hear their grandfather exclaim, "There it is! I wondered where we buried it!" The empty glass bottles and Japanese float inside now decorate my home and warm my soul. The sea has a rhythm that matches my heart and all those who stand at its edge feel its pull.
Tips from Erin
I love taking my own children to the beach every year, continuing the family tradition.
Involve your children in the planning
Let them get online. Most beaches and cities have tourist packets that can be ordered by mail or are available online. Have them list places to visit and print out or write directions before you go, saving the headache of asking for directions later - with kids in tow. Check local laws. Can you have a bonfire, clam or fish? Are there fees?
Be flexible
Kids get tired, cold and hungry fast. There is nothing better than a nap by a bonfire on the beach with a sleeping baby at your side.
Bring mesh bags for toys
Mesh bags allow you to pack things up and shake out sand before you put them in the car.
Pack sand-free snacks
Ocean air makes everyone hungry! Bring plenty of snacks. If you prepackage the meal in individual baggies you'll prevent sandy food and sandy hands reaching in a bag of snacks.
Dust off the sand with baby powder
The long walk off the beach can be gritty. To combat little legs chaffing with wet sand, powder it! The powder, on dry limbs coated in sand, will help prevent the sand from sticking and causing what we lovingly refer to as sand rash.
Plan for a long haul
You may be thinking, that's a lot to carry! You're right! Bring lightweight bags or better yet backpacks. Remember, you may be carrying things a long distance. A full cooler might be hard to lug down a sandy beach.
Following these tips can help your family enjoy a beach vacation that may have you starting your own traditions. Feel free to comment with any handy tips you may have from your own experiences.