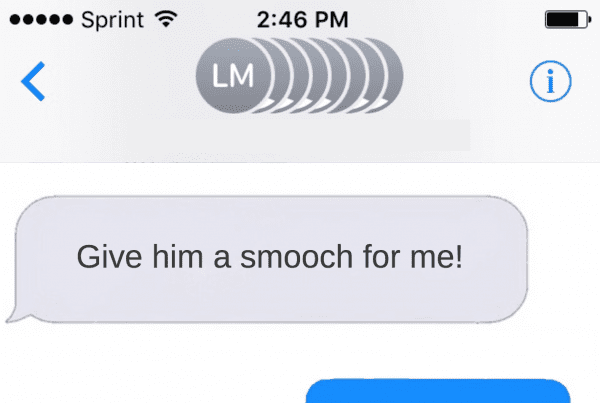 Have you ever received a text from a wrong number? Or worse, sent one of your own?
Do you ignore it? Reply to the text and inform them of the mixup? Or do you reply like nothing's wrong?
Comedien Mark Chalifoux just replied like nothing was wrong
When comedian Mark Chalifoux was on the receiving end of a family's group text, he thought for sure he'd be removed from the group after he answered a few times, though he never did outright say they had a wrong number.
One thing led to another, and now there's a GoFundMe page set up by Chalifoux explaining the whole story:
"A few months back, I was mistakenly included on some family's group text. It was a pic of a little kid smiling with an old lady, and the text said 'Always loves going to grammy's!'
"I responded with 'Looks like he's having a blast!' thinking they'd realize their mistake and remove me from the thread.
"A day later, pic of the same kid, this time with a toy car, and a text: 'Of course I couldn't resist buying it for him, fast and furious!' followed by a bunch of texts that were just like 'aw, give him a smooch for me!'
"I replied to that one with 'I don't know why I'm part of this, but I'm happy that kid got his car' and thought that was the end of it. Surely now, the messages would stop blowing up my phone. Instead, the person who started it simply replied 'because you are family!'"
Maybe that's why the comedien stayed
Who can resist some bonus family? But still, no one on the group message worried that there was a stranger on the group text messaging, so it continued.
"About two weeks after that, it was a pic of four soldiers in front of a helicopter, with the text 'Christian and his unit shipping out for six months.' Most of the responses were immediate, just 'Wow, an officer and a gentleman, I pray for him every time we sing the anthem!' and stuff like that.
"I replied 'Which one is Christian?' thinking, clearly, this will definitely establish I had no business being included in this chain.
"The person only replied 'third from the right' so I finally gave up and embraced it, and just said 'A true patriot', which elicited a bunch of 'Amen!'s' and emojis from the rest of the group.
"It's been quiet for the last month, but today the person sent out a long text about how to send Christian a package while on deployment."
What would you do next?
What would you do at this point? The messaging shifted to something a more serious matter - sending care packages to their beloved mililtary member. Chalifoux came up with a pretty fantastic plan.
"I don't want to let down the person this family thinks they've been texting, so I'm raising money to send this soldier 3,000 cookies. I don't know a thing about this guy. He might like my favorite TV show, or my favorite sports team, which would make him a pretty cool dude. Does he even like cookies? There's simply no way to know. Why 3,000? You're really asking too many questions.
"A package of Oreos costs $3 and includes 36 cookies. So we're looking at about 84 boxes, with the leftover money going towards shipping to whatever part of the world he's currently deployed, defending our freedom.
"Anything past [sic] the goal will just go to send even more cookies to him"
It's not a charity, just a way to do something nice
"There are a lot of great charities out there, and a lot of great causes. This is not one of them. This really doesn't even make much sense if you think about it too long. It's just a way to do something nice for a total stranger.
"There's a lot messed up in this world. Take a minute to put some positive energy out there. Give people something to believe in. And buy some cookies for a guy none of us have ever met."
This story has all the feels - a total stranger going out of his way to make some good things happen for someone else, complete with several thousand cookies.
Chalifoux is continuing to send cookies to the soldier as more and more donations come in. Maybe you'll take a little advice from the comedien and choose to make a wrong text message an opporunity to serve.