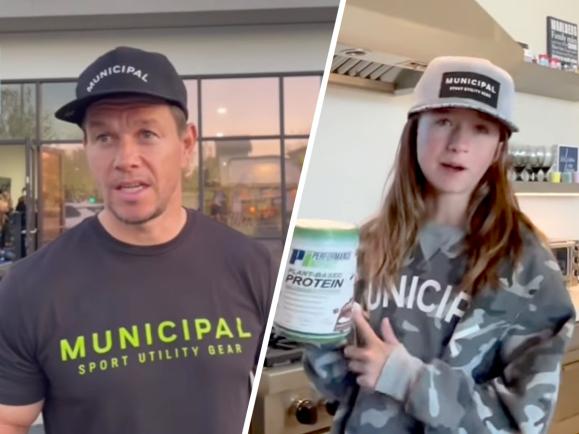 Mark Wahlberg's 13-year-old daughter, Grace, recently shared a hilarious impression of her father, Mark Wahlberg, on his Instagram. Wahlberg posted to his Instagram a video of his daughter Grace poking fun at him and his Sport Utility Gear brand, Municipal. Wahlberg co-founded the brand with manager and producing partner for over 20 years, Stephen Levinson.  "Municipal from head to toe," she said in the fake ad. "The new municipal shoes, shorts. Municipal and 45, the sweatshirt, the hat," she added. She continued by picking up the brand's  performance supplements, saying,  "Performance-inspired. Inspired to be better. Stay prayed up. Make your protein shakes." She also poked fun at her father's strict sleep routine, which he shared a few years ago, saying that he wakes up between 2:30 a.m. and 3:30 a.m. to go workout. Grace joked in the video saying, "What time is it? Oh, 8 a.m. Got to go to bed." Wahlberg captioned the video tagging his brands along with several emojis consisting of hearts, laughing faces, and prayer hands.
View this post on Instagram
Grace is the youngest of Wahlberg's children, who he shares with wife Rhea Durham. They also share Ella, 19, Michael, 17, and Brendan, 14. Recently, Wahlberg opened up about his decision to move his family from Los Angeles to Nevada, saying that he made the choice for his family to have a better life. "So to be able to give my kids a better life and follow and pursue their dreams — whether it be my daughter as an equestrian, my son as a basketball player, my younger son as a golfer — this made a lot more sense for us." Wahlberg said he and Durham came to Nevada "to just kind of give ourselves a new look, a fresh start for the kids, and there's lots of opportunity here." He added saying, "I'm really excited about the future."