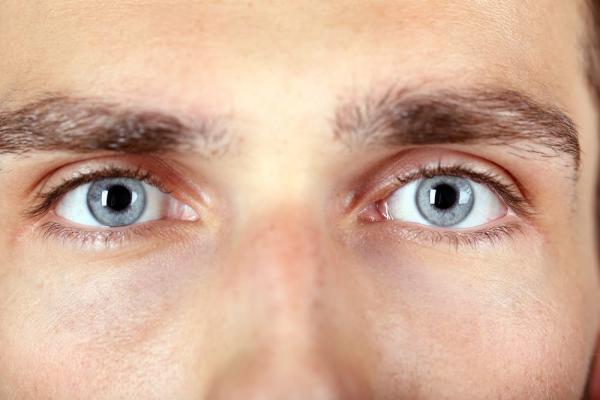 Russell and Lily plummeted from pure excitement to complete despair in just a few minutes. Only two weeks before their lives changed, they were in the same hospital in the same place, hearing their unborn child's heartbeat for the first time. It was strong and healthy. But this time, they heard nothing.
"The woman conducting the ultrasound said to us, 'I'm sorry, but it looks like your baby has passed way.' What? That's our reality?" said Russell.
"It's [was] surreal to me. What were we doing when her little heart stopped beating? Were we laughing about how since Lily became pregnant all she's wanted are the gross microwaveable pizzas from the frozen section at the grocery store, or were we editing photos and video together watching Gilmore Girls? Was I standing in the shower looking at the weird shapes on the inside of our Ikea shower curtain?"
Mary and Marcus
Mary and Marcus were pregnant six times, and miscarried three. They have a beautiful family, but they remember the loss and grief they felt with each miscarriage.
"I think some men overlook the simple fact that a miscarriage is a serious loss, and afterward, grieving is mandatory," said Marcus. "Flat out, there's no other way to cope except to grieve."
Hermes and Lauren
Hermes was diagnosed with stage three Hodgkin's lymphoma only three weeks before their wedding, and they knew his chemotherapy treatment would come with temporary infertility. Despite the odds, they got pregnant naturally and shared the news with their close family and friends.
"Everything was going well up until the seven-week mark when the baby seemed a little small for its age. Around week 10, we went in for an ultrasound. We knew the drill - to look for a flicker of a heartbeat. This time, though, neither of us saw it," said Hermes.
"For me, it was terrible, like a punch in the stomach. Lauren started crying immediately, even before the technician could explain that we'd had a miscarriage," said Hermes.
Why don't we talk about miscarriage?
There are many factors that contribute to why no one talks about miscarriage, but there are two main ones.
First, it's difficult to talk about. The mother is left with physical and emotional pain. The father is left with emotional pain and the pain of worrying about his wife.
Marcus explains it well when he said, "A man finds himself in a unique spot. He's often the silent sufferer - the one called upon to support and encourage and comfort. Yet inside he's as equally torn up as his spouse or girlfriend, as unsure of what to do next, as grief-filled, discouraged and aching."
Second, it's surprisingly common. According to the American Pregnancy Association, up to one in four pregnancies will end in miscarriage. Even though it's common, no one really talks about it.
How should a man react to miscarriage?
1. He should grieve
Don't let the idea of "manliness" deter you from spending an appropriate amount of time grieving. What's an appropriate amount of time? That's up to you and your significant other. You will know when your grieving period is over.
2. He should love
Many women feel guilt after miscarriage, but it's not something to feel guilty about. Make sure she knows how much you love her. She shouldn't feel guilty, and she needs to know that you will be with her through it all.
3. He shouldn't apologize
If you told people, don't apologize for sharing good news. If you started baby prep, don't tell yourself you were dumb for it. Marcus Brotherton's mother told him after their miscarriage, "You celebrated the start of a new soul, and you invited the world to celebrate with you. Never apologize for inviting people to see something of wonder and awe and profound beauty."
The Silver Lining
There's no way around it; miscarriage is a painful experience on many levels. But with every one of life's storms, there is good waiting at the end.
Russell and Lily found hope after the miscarriage and an emergency D&C surgery. "Even though these last few days have probably been the most painful days of my life, I'm still optimistic," said Russell.
Mary and Marcus went on to have three miscarriages in six total pregnancies. It wasn't an easy experience for the couple but they say their kids made it worth it.
Hermes and Lauren resolved to keep trying when the time was right, and they were hopeful for another pregnancy. They were recently blessed with this sweet little miracle:
So, look for the flowers that will surely blossom after the rain. Find the faith and hope to keep going - whatever that means for your and your sweetheart. Let this experience make you better and never bitter. Use this hardship to develop even more love for your significant other.