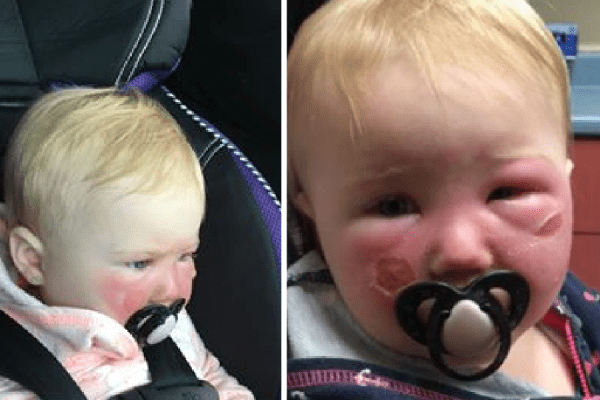 One morning while visiting her sister, Rebecca Cannon noticed her 14-month-old daughter's skin getting slightly redder, but it wasn't until her baby woke up the next morning with blisters on her face that Cannon knew something was definitely wrong. Baby Kyla was rushed to the doctor.
She had second degree chemical burns
Cannon had used Banana Boat Kids SPF50 sunscreen to protect Kyla from the sun the day before. She knew the sunscreen was intended for children - not babies, but thought it was better than no UV protection. After all, according to the Banana Boat website, this sunscreen is the "perfect sunscreen that's gentle on kids' skin, yet powerful enough to provide powerful protection."
But what baby Kyla needed protection from wasn't the sun
"I figured just putting it mildly on her face, for some protection rather than having none at all, would be OK and yeah, it didn't go over well," Cannon told CBC news.
Cannon was horrified to discover that Kyla's disaster wasn't the only incident from this particular sunscreen leaving chemical burns. Since the disaster, Cannon has learned about many other like Kyla's. Last January, a woman in Melbourne had a similar experience. After putting on the spray-on sunscreen, the back of her legs were burnt so badly she could hardly walk, according to ABC News.
And she's not the only one. There have been multiple reports similar to this.
Cannon said Kyla is healing, but it's obviously been a painful process. In a Facebook post, Cannon wrote, "Kyla is back home after another hospital trip this morning due to extreme swelling, but she is doing ok and is in good spirits."
Protecting your child
Cannon is now working to spread the news about this risk, and has contacted Banana Boat about her disaster.
"We are greatly concerned when any person encounters a reaction using our products," a Banana Boat representative wrote in a statement to CBC News. They also said all of their products go through rigorous testing.
Not all of our children will deal with second degree burns from sunscreen, but every parent faces times when their child gets hurt and they can't protect them from pain. It's in those times your child needs you to stand up for them the most. It shows your child that while you can't protect them from everything, you will always be there for them.