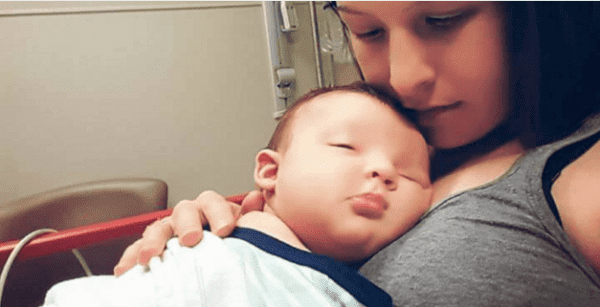 Having plentiful breastmilk is a dream for a lot of moms, but for one mother, it was a nightmare. For Rebecca Taylor, the "scariest day of (her) life by far" was when her breastmilk cut off her infant's airways, causing him to almost choke to death.
A terrifying choking episode
In the moment, Taylor did not know what was causing her baby to violently choke. As panic rushed over her, she thought she might lose her son. She called an ambulance and the dying infant was rushed to the emergency room.
"Watching my teeny tiny new baby get hooked up to an oxygen mask with all sorts of tubes & codes being called out is one if the worst things a parent could ever witness," said Taylor in a Facebook post. "They're just so small and helpless, but most importantly irreplaceable."
A successful rescue
Miraculously, Taylor's son was saved in time from his choking episode. Among other things, the baby had to get a chest X-ray, and Taylor was told by doctors to watch him for signs of aspiration and pneumonia. She gives credit to God and the "wonderful paramedics" for successfully saving her son's life.
Now that she has her son back home safe and sound, Taylor can't help but think back to those terrifying moments when she thought she would lose him and wishes she had known more about the dangers of breastfeeding. After going through such a horrible ordeal, she doesn't want any other mom to have to experience a similar nightmare.
"I just can't believe it"
Taylor said she can't believe a life or death situation for her baby could be caused by something as simple as breastfeeding. Afterall, she breastfed her older daughter for 18 months and nothing even close to this dangerous every happened.
The sirens and ambulance and drama were "all from us doing what we're both supposed to be doing," wrote the relieved mother.
So why did something so natural turn into a life-threatening crisis?
A 'strong letdown' of breastmilk
Taylor was told by a lactation specialist that she has a "strong letdown" - possibly to the point of an oversupply. Though the lactation specialists gave her various tips on how to handle her breastmilk situation, Taylor said "I really didn't understand." She considered pumping away the extra breastmilk, but she was told that action would actually make her produce more.
So she posted on the popular Facebook page Breastfeeding Mama Talk about her situation and ended with a request for advice from fellow mamas in similar circumstances.
Helpful feedback
Lots of people weighed in on Taylor's dilemma, and offered some advice: