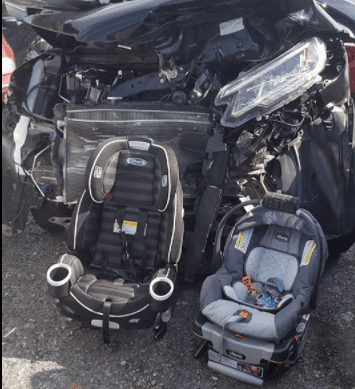 If you're a parent, you know that buckling your kids into the car can be a struggle. You have to make sure the straps are perfectly placed and that your child is secure, all while they're screaming and fighting you.
Sometimes it seems easier just to buckle the top strap, or maybe just let them sit in the car seat without a buckle if you're just driving down the street. But one woman is urging parents everywhere to ALWAYS properly buckle children, no matter what.
The nearly tragic car crash
Jenna Rabberman was only minutes away from her home when another car slammed into hers. She posted this photo to Facebook, saying how important it is to properly buckle your children every single time.
She said, "You never think it will happen to you. My boys escaped without a scratch but the paramedics told me it could have been very different had I not taken the extra 2 minutes to be sure they were buckled correctly."
The eye-opening photo shows the absolutely destroyed car and the perfectly intact car seats. She wrote, "THIS is why you buckle your kids into their car seats correctly every SINGLE time. Even when they scream because the straps are tight. Even when they complain about the chest clip or being rear facing."
This mom was extremely lucky to have her boys escape the wreck without a scratch, and she plans on replacing the car seats just in case they were damaged in the accident.
Buckle your children the right way
Parents, it's incredibly important that you buckle your child into their car seat every time you get in the car. Here are some things to consider when you're buckling your child into their seat:
Rear-facing or front-facing? If your child is under two years old and 30 pounds, they should definitely still be in a rear-facing seat. This is so much safer for your sweet baby.

Where are the straps? If your baby is rear-facing, place the shoulder straps at or below the shoulders. If your toddler is in a forward-facing seat, set the straps at or above the shoulders.
Don't swaddle before buckling! Having a lot of fabric between your baby and the car seat can be dangerous. Buckle your baby properly, then swaddle with blankets.

Read the manual. I know it's boring and it's the last thing you want to do, but you'll learn how to use the car seat to its maximum capabilities.
Knowing car seat rules and having a proper car seat for your child is so important, and you should never try to save an extra few minutes when buckling your child. Making sure they're buckled in correctly could literally save their lives.