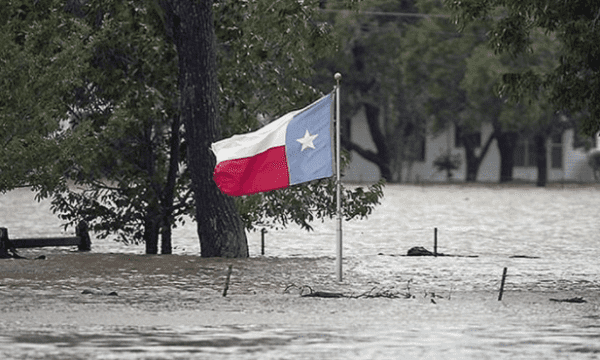 Rescue and recovery efforts are still going strong in the areas where Hurricane Harvey has struck, and we're hearing heartbreaking stories of sacrifice, love and miracles. One story that was particularly heartbreaking and miraculous was tweeted by news producer Kaitlyn Anderson.
There's no force stronger than the love a parent has for a child, and this story shows one mom who was willing to sacrifice her life to save her sweet baby girl.
They were swept away
A mom and her daughter were driving down a service road when they got into high water. She pulled into a nearby parking lot and evacuated her car, but they were both swept away into a canal, floating about a half mile away from her car.
According to the report, "Two Beaumont Police Officers and two Beaumont Fire Rescue divers in a Zodiac boat, spotted the mother floating with the small child. The child was holding on to her mother." There have been mixed reports on the daughter's age, but most reports say she is 18 months or three years old.
The baby was able to stay afloat
The rescuers were able to pull the mom and daughter into the boat, but the mom was unresponsive and the daughter was suffering from hypothermia.
The child was reportedly clinging onto her mother in the water, and she was wearing a backpack that helped her stay afloat.
Officer Carol Riley from the Beaumont Police Department told People, "They were in the water for quite some time ... The mother did the best she could to keep her child up over the water. The baby also had a backpack that was helping her float on her back and she was holding on to her mom."
The mom saved her child's life
The baby girl and her mom were loaded into an ambulance, and the baby is in stable condition. The mom unfortunately passed away.
She didn't, however, die in vain. Officer Riley said that the sweet mom "absolutely saved the child's life."