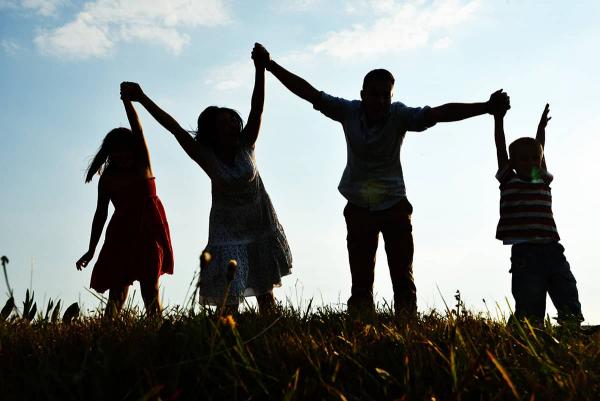 A family motto is a slogan or guiding principle that can help coalesce your family around a shared understanding of what's important to you. Family mottos are typically short and memorable so that the whole family can easily recall them. They don't have to be original or unique, and they work best when they provide a vision that governs the direction your family wants to go.
How can a family motto make a difference?
A family motto can unify your family, focusing them around a mutual philosophy that can foster good choices in both adults and children. For example, a family motto might be something such as, "We're the Jensens. We never give up," or "We're the Garcias. What we give is more important than what we get." The idea is that your family motto sends a signal to your children regarding what your family is all about.
Every day when family members left the house, they saw the motto
My brother Brent and his wife Marcia had their family motto stenciled on the door leading from their kitchen into the garage. Every day when family members left the house to go to school or work or out to run errands, they came face to face with the family motto: "Return with Honor."
This motto was obviously not original to their family. But it expressed what was most important in their home, which was to leave the house every day and do the very best you could and taking care not to compromise your personal integrity or the integrity of your family. The concept of honor for their family also implied faith and trust in God as well as keeping commitments. Everyone knew what was expected of them and they followed through. The children are now grown with children of their own. They still remember how important it is to "return with honor."
A family motto finds a family
When my children were small, we didn't really have a family motto that guided our actions. After I was divorced, we didn't have a family motto, at least not until several years later. We didn't find our family motto, so much as our family motto found us. It was my son Alex who first came up with it. It went something like this: "We're the Swanns. We work together as a team. Teamwork doesn't seem work."
The idea was that we supported each other and watched over each other and when we pulled together as a group, life worked better. My two children both have children of their own now, but we all meet together Sunday nights, across three different states, via Google Hangouts. We take turns sharing what's new and important in our lives, and we offer support where needed. It's the best hour of my week.
Six steps to creating a family motto
What if your family doesn't have a motto? Or what if you have one that isn't working so well anymore? It's never too late to come up with a family motto that defines who you are and what you believe as a family. Here are some ideas on how to get started.
1. As parents, come up with a list of inspirational quotes or slogans as a starting point
Find several ideas that might express who you want to be as a family and then clarify what some of your most important goals are. What do you want your family to look like five years from now?
2. Gather the troops and set aside time to develop your family motto
The best way to get buy-in for your family motto is to make sure that everyone has a hand in developing it and that most of the family agrees with it. If you have teens who find the idea of a family motto less than optimal, let them know that the most successful companies have mission statements, or mottos, and the most successful families often do as well.
3. Make the time spent developing your family motto fun
Be ready with food and comfy throw pillows, colored pencils and paper, or even a white board. Make the process creative. Ask your children to suggest ads or slogans or even song titles they like as possibilities. The song title "Let it go," from the movie "Frozen," for example, would actually make an excellent family motto.
4. Come up with a list of words that best describe your family
Be patient with humorous offerings, and keep your focus. Think about how you differ from other families. This might be an interesting exercise, so keep an open mind. You may discover ways that your family could improve in the eyes of your children.
5. Draft three or four mottos and then narrow them down to one
It might take more than one family meeting to get this done. Be patient with the process.
6. Once you've settled on a motto, make copies
Give every family member a copy, or stencil your family motto on the door of your children's bedrooms. Just make sure the motto is both visible and repeatable. Refer to it often.
Would you please tell me which way I ought to go from here?
Lewis Carroll asked and answered that question in his book, "Alice in Wonderland." The answer is "That depends a great deal on where you want to get to." Know where you want to get to as a family. Have a destination in mind and create a family motto that provides direction. You may be surprised by what a difference it makes.