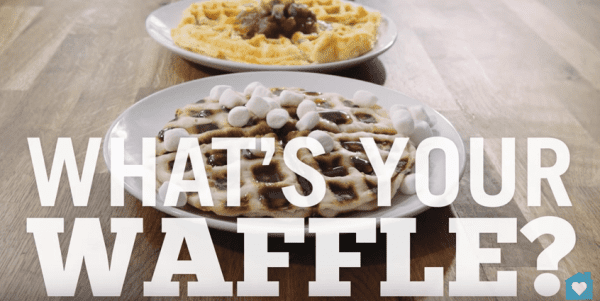 Looking to step up your waffle making game? Try these three untraditional yet irresistible recipes at your next waffle party. You are guaranteed to impress your critiques and leave them begging for more.
Gourmet omelette
2 large eggs

A dash of salt and pepper

1 teaspoon butter

1 tablespoon milk or water
Optional Veggies
Red bell pepper

Red onion

Mushrooms

Jalepeños

Spinach

Tomatoes

Avocado
Optional Meats
Bacon

Ham

Ground turkey

Sausage
Directions:
Pre-heat the waffle iron.

Prepare the filling of your omelette (veggies and meat) by cutting them into 1/4 inch portions. If your filling needs to be pre-cooked, such as mushrooms, onions, peppers or meat, saute in a small frying pan with 1 teaspoon of butter for taste.

Crack the eggs into a mixing bowl, gently stir with a fork until a smooth and well beaten mixture emerges.

Combine the beaten eggs with your fillings.

Pour the combined mixture into the waffle iron and wait approximately 5-7 minutes or until the waffle iron light turns on.

Enjoy!
Caprese Panini
1 loaf of sourdough bread

Drizzle of olive oil

1 vine tomato

A handful of basil leafs

8 oz. of fresh mozzarella
Directions:
Pre-heat the waffle iron.

Slice your sourdough bread into approximately 1" portions. Lightly brush one side of both slices of bread with a drizzle of olive oil. Place one slice on the iron.

Apply your desired amount of mozzarella, basil and tomatoes and drizzle a small amount of olive oil on the components of the sandwich before topping with the final slice of bread.

Wait approximately 5-8 minutes, or until the cheese is thoroughly melted.

Enjoy!
S'more Waffle
1 can of refrigerated biscuit dough

4 graham crackers separated into 8 squares

1 package of mini marshmallows

1 package of semi-sweet chocolate chips
Directions:
Pre-heat the waffle iron.

Crack open the biscuit dough and roll it out into a circle an inch smaller than your waffle iron. To make one s'more waffle you will need two circles of dough per serving. (One biscuit dough can will serve approximately 3-4 people.)

On one circle of dough, place a graham cracker in the center and top it off with your preference of marshmallows and chocolate chips.

Place the second circle of dough on top of the other circle and seal the two together.

Place on the waffle iron, wait approximately 4-7 minutes or until the dough is light brown.

Enjoy!