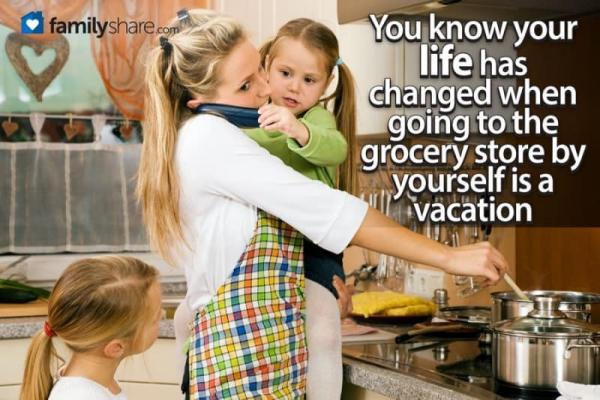 Are you thinking about leaving the workforce and becoming a stay-at-home parent? If so, you are probably scared. Frankly, you should be. Staying home to raise kids is not easy, but it is rewarding. It is worth every sacrifice you will make to do so.
In 2009, I left my job as a teacher to stay home and raise my three children. I assumed that leaving the workforce meant I was leaving all the stress and hard work behind me. I looked forward to carefree days spent playing with my children in a clean home filled with the smells of homemade meals and treats baking. I quickly learned that someone needed to play with those kids someone needed to clean the house, someone needed to cook all of those meals, and I was the only one there to do it. Thankfully, I stuck with it because I love being a stay-at-home parent. You will too if you follow these seven tips:
1.
Stay-at-home parenting is a full-time job
Just because you are no longer receiving a paycheck at the end of the week, do not fool yourself into thinking that what you are doing is not work. Raising kids and taking care of a house is a lot of work. In fact, your new job will leave you more physically and mentally tired than anything you have ever done before. You need to take it seriously. Before you go to bed each night, make a plan for the next day. Get up before the kids and take that time to get ready. Your days will be much more enjoyable and more productive if you are prepared for them.
2.
Get organized
You are now responsible for the management and upkeep of a most precious organization: Your family. In order to make sure you stay on top of all the jobs that need to be done, make a schedule and stick to it. Figure out what days of the week you will do certain chores and errands. Don't try to do them all at once. Instead, spread them out over the entire week. By doing this, you can ensure that your days are well-balanced between work, play, and relaxation. This makes for a happier home and a happier you.
3.
Exercise
Like I said, being a stay-at-home parent is hard work The only way you will be able to do it all is by being physically and mentally fit. A great way to do this is through daily exercise. Spend 30 minutes a day being active. You can play tag with the kids, go for a bike ride or a hike, or do an exercise video when everyone is napping. It really does not matter what you do as long as you are active and you enjoy it. Exercise will help you to stay strong, positive and healthy; everything your child needs from you.
4.
Get connected
One thing you will quickly learn is that becoming a stay-at-home parent is almost like leaving the planet. All of sudden you no longer see your colleagues. You have no idea what is going on in anyone's life. Sure, this break from all the office politics may be nice at first, but you will quickly feel isolated. Get on Facebook, Instagram, or Twitter. These sites will help you stay connected with old friends as well as help you to make new ones.
5.
Get out and meet other stay-at-home parents
Go to the park and meet the parents in your neighbourhood. If there is no one around, check and see if your community has a drop-in playgroup. They typically run 3 or 4 times a week and provide a great environment for parents and children to gather, learn and play. Your local library is another wonderful resource. They usually offer toddler and preschool programs where you can meet other families, borrow great books to read, and do a craft or an experiment.
6.
Be patient with yourself. You are only one person
Raising a family and taking care of a household is a tremendous amount of work. You are going to need help. Since you are probably now living off one income, you may not be able to afford a babysitter for the occasional afternoon or a housekeeper. However, if you can, go for it. You don't have to be a martyr. Use your resources. If you cannot afford these luxuries, find a friend with whom you can swap babysitting, or call grandma for some help. Even with help, know there are going to be days when you mess up. Don't get discouraged. You had rough days at work, and you will have rough days at home. That's life. All you can do is pick yourself up and try again.
7.
Don't forget your kids
As a new stay-at-home parent, it is easy to become preoccupied with all the projects you had dreamt about doing, or get so caught up in social media that all of a sudden you've lost sight of why you left work in the first place. You wanted to raise your kids, remember? Make sure that each day you schedule some face-to-face, get on the floor and play with your kids' time. They are the reason why you are doing this. They are the ones that make it all worth it.
Yes, becoming a stay-at-home parent is challenging, but with some careful planning, a routine, a few good friends, some exercise and lots of patience, everything will fall into place. Soon, you will be rocking the domestic world in no time.