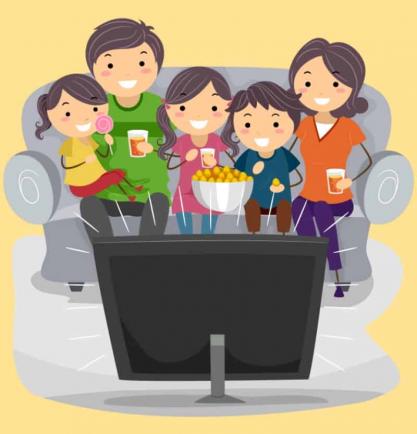 Family movie night sounds like a great idea, and one you'd like to try. Now comes the hard part, choosing the perfect movie for your family. You will want to choose one that will keep everyone engaged and interested, and maybe something they haven't seen before. Have you considered classic movies, like those you watched when you were a kid? Older movies may not have all the fancy special effects and computer-generated images of today's films, but they do have heart and are definitely family friendly.
You will need to apply your own family's values and needs as you choose movies to watch together. Even some PG movies are too violent or crude for my tastes. Previewing a movie before watching it with your family is a good idea, as is keeping the remote close so you can fast forward or mute. By category, here are some suggestions for older movies that will still get two thumbs up from your family.
Musicals
"The Sound of Music" (1965) is the classic story of a young nun, Maria, who takes care of the von Trapp children and falls in love with their father.
My favorite musical of all time, "Singin' In the Rain" (1952), is the story of the shift from silent films to talking pictures, all set in Hollywood. Gene Kelly, Debbie Reynolds, and Donald O'Connor delight in this fun film.
Most kids are familiar with "Annie" (1982), the story of an orphan girl who finds an unconventional family. The music and dancing are memorable. There are a few different versions, but I highly recommend the original.
"Mary Poppins" (1964) is a musical that's become popular recently as the Broadway play has been successful. Starring Julie Andrews and Dick Van Dyke, children will especially enjoy the magical touch of Mary.
Adventure
Unlike its title suggests, "The NeverEnding Story" (1984) does end, but not before a young boy discovers the land of Fantasia in an old book.
Kids and their parents will enjoy the witty humor of "The Princess Bride" (1987). There are a few more intense scenes, so consider your children's needs.
As a child I was entranced by "Swiss Family Robinson" (1960) and the story of a family who survives a shipwreck. Who wouldn't want a treehouse like theirs?
For a less fantastical adventure, try "The Love Bug" (1968), which features Herbie, a Volkswagen Beetle that has its own ideas about how to win races.
Comedy
"Parent Trap" (1961) stars Hayley Mills as twins separated when their parents' marriage ended. When they find each other at summer camp, they hatch a plot to get their parents back together. If you'd prefer a more modern film, the 1998 version, starring Lindsey Lohan, is also well done.
I grew up with the Muppets, but they are less popular today. Revive Kermit and friends for your children by showing "The Muppet Movie" (1979). If they like the original film, there are several others to watch as well.
For kids who love animals, "Babe"(1995) is a sweet farmyard story of a pig that learns to herd sheep.
Animated
Some children see all the new releases, but haven't viewed the Disney classics. Don't forget about "Bambi" (1942), "Robin Hood" (1973) and "The Jungle Book" (1967). All three are funny and entertaining, as well as touching.
If you're tired of the same old animated films, try Wallace and Gromit. There are several films, including full-length features, made in clever Claymation stop-action format.
Now, where to find all these great films? If you have a movie rental store near you, they will have some of these choices. If not, try streaming via a service like iTunes, Netflix, Hulu or Amazon Instant Video. You can also purchase them online or ask friends if they have titles you can borrow. Starting a collection of older movies is a great idea. Pop some popcorn, grab pillows and blankets and call your family together for classic family movie night. You'll have lots of fun together, even without high definition.