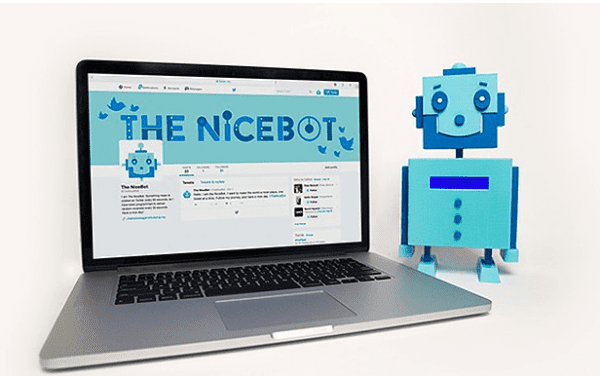 The statistics on cyberbulling show most social media users deal with it in one way or another: 43 percent of kids say they've been bullied online, with 70 percent indicating they see it happen frequently, according to DoSomething.org.
In addition, the byproducts of cyberbulling include "low self-esteem, suicidal ideation, anger, frustration" and a slew of other problems, the Cyberbullying Research Center reported. With 97.5 percent of students in a CRC survey stating they've been online in a 30-day span, the potential victims - and bullies - are endless.
But amidst the posts of harmful intent on your social media feeds is The NiceBot - a Twitter account that mainly wants to tell you how you're "more amazing than fresh towels from the dryer."
Erica Williams Simon wrote for Upworthy that The NiceBot, @TheNiceBot on Twitter, has big ambitions: to combat cyberbulling by tweeting all of the site's 300 million users a positive message.
"The brainchild of Champions Against Bullying and Deutsch Inc. advertising agency, @TheNiceBot is a Twitter account devoted to tweeting nothing but compliments and kind thoughts to people throughout the day," Upworthy's report read. "Every 30 seconds to be exact."
As of Tuesday afternoon, The NiceBot had sent some 48,600 messages. Lee Moran wrote for The Huffington Post that the tweets may be "slightly cheesy" and that users of sites like Twitter typically view spam poorly.
However, Deutsch creative director Jeff Vinick told the Post any approving response beats the hate spewed online.
"While spam is normally thought of as something negative, we figured that if the message was simple and positive enough, people would respond favorably - and maybe even be tempted to spread some niceness themselves," Vinick told the Post.
So when The NiceBot tweets you in regards to making its "circuits tingle with positivity" or that it's "calculated you are awesomesauce," pass it on.
Just don't put too much effort into waiting for a message from the bot: Tim Nudd wrote for Adweek it will take 342 years for The NiceBot to reach all Twitter profiles.
Still, that's a task the bot is up for, Adweek reported.
"[The NiceBot] is the Mars Rover of kindness," Adweek quoted a statement from Deutsch as saying. "We're going to turn him on and then sit back and watch as he makes the Internet a nicer place, one tweet at a time."