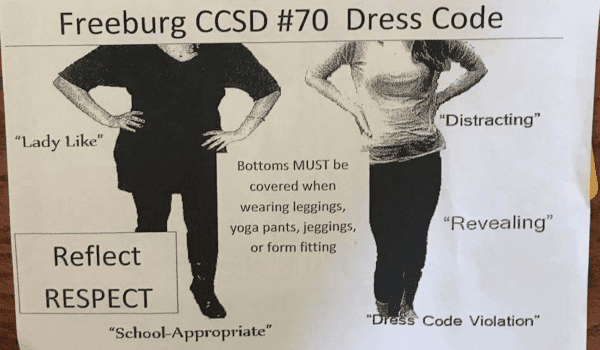 Fifth-through-eigth grade students from the Freeburg Community Consolidated School District 70 received a controversial flier during class registration outlining the district's school dress code for both males and females.
Critics on social media are complaining that the flier is "sexist" and "offensive toward women."
Superindtendent Tomi Diefenbach told KSDK, "there were so many dress code violations last year, that school officials felt they needed to clarify to families exactly what the dress code entailed."
The flier includes images of eight women and three men. It encourages the students to avoid wearing spaghetti straps, short shorts, clothing that does not cover their abdomen, pajamas and shirts that include offensive wording.
The lower half of the flier, which caused the most controversy, includes "Lady Like" and "Revealing" outfit examples.
Not everyone thinks the dress code is bad. Supporter's agree that the discrict has the right to dictate what is and isn't appropriate for a school enviroment.
Others have suggested that the district to revise it's dress code wording to be more gender-neutral.
Ultimately, it is a parent's responsibility to determine whether or not they allow their children to wear clothes they deem innapropriate. Experts recommend setting clear rules, limits and expectations from the very beginning and then sticking to them.
What do you think?