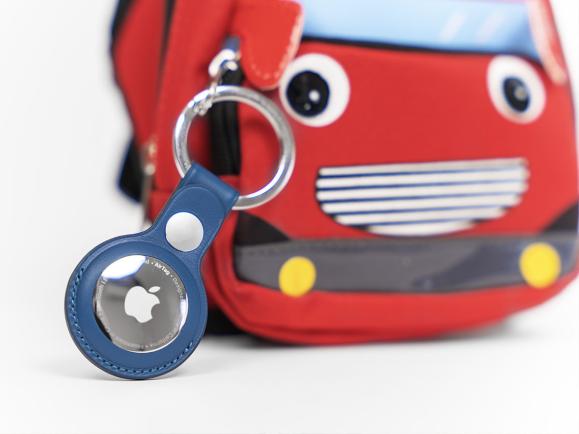 While Apple has gone on record stating that its AirTag possession trackers should not be used on people, some parents seem to support the use of AirTags to keep tabs on their children in the name of safety.
Manufacturers are selling wearable accessories such as lanyards, necklaces, bracelets and watch bands to hold AirTags, which are typically used as key finders.
Brittney Mesa, a travel blogger from Los Angeles and the mom of an 18-month-old boy, told Fox News Digital her son's safety is her "number-one concern," especially when they're out in public spaces.
"You never know who's eyeing your kid, waiting for that moment when they wander away from the family," she said.
Fox News Digital reached out to Apple for comment.
Mesa isn't opposed to AirTag tracking when it's the parents, guardians or caregivers who are doing the tracking, she said.
She believes parents should be able to track children when they reach an age when they can run away.
"Even if your child isn't a target of human traffickers, they're still able to get lost in a crowded area," said Mesa.
She said parents may want to consider if their children understand potential dangers, have environmental awareness and are physically capable of defending themselves before they end the tracking.
In terms of concerns, Mesa said it's also up to parents to be "diligent" and make sure strangers aren't putting AirTags or Bluetooth trackers on children or their belongings.
Android, the mobile operating system that makes up most of the global market share, updated its software this summer to notify Android users of "unknown trackers" that may have been planted on them by someone else.
The personal safety setting update allows Android users to scan their surroundings for trackers, choose to make the tracker play sound and inform users of their options, such as contacting law enforcement, gathering information and disabling the tracker, according to CNET, a consumer tech news website.
Apple designs its AirTags to work with iOS (iPhones and iPads), watchOS (Apple Watch) and macOS (MacBooks and iMac) devices.
In 2021, Apple expanded its "Find My" network to track compatible third-party products, including wireless headphones, backpacks, keys and bicycles.
Apple users will be notified through their device if an Apple-made tracker is tracing them. However, Apple users don't always get notified about non Apple-made trackers that could be doing so.
In New York, Maria (last name omitted for privacy), a mother of four children under age 10, told Fox News Digital she uses AirTags on her kids so she can "have peace of mind."
"I do it when we are at the beach or at an event so that they can feel a little bit of freedom and I know exactly where they are," said the mom.
She said she sets off the AirTags using her iPhone, in case she feels that her kids have gone too far.
"It beeps, and they know they need to come back," she noted.
The mother said she not only uses AirTags on her children to pin an approximate location on them, but to help foster independence.
"You want them to figure things out for themselves. You want them to meet new people and that's pretty much the biggest reason. You want them to be their own little people," she added.
Maria said she decided to use AirTags after seeing a family member do the same.
It became an added layer of protection in case her kids "got excited and ran off with friends," she said.
This way, she has a location on them.
"What if they don't know how to get back [to me]? As far as someone taking them, that's not really on my mind. It does cross my mind sometimes, but if that were to happen, I honestly feel like a kidnapper would just rip [the AirTag] off them."
Maria said she's spoken to teachers and camp counselors who weren't surprised that she uses AirTags to keep track of her kids' locations, since they've seen many parents do the same.
She also said she cautions other parents against relying on AirTags for supervision — and that it's a balancing act.
"It's not a babysitter, just a little bit of a safety net," she said. "So, you can give them a little bit of freedom and not hover."
She went on, "I'm not sheltering and being a helicopter parent — if anything, I'm allowing them to grow and thrive socially. I'm also being cautious about it."
Apple does not advise AirTag owners to use the device to track human beings.
"AirTag was designed to help people locate their personal belongings, not to track people or another person's property, and we condemn in the strongest possible terms any malicious use of our products," Apple wrote in a 2022 news release.
"Unwanted tracking has long been a societal problem, and we took this concern seriously in the design of AirTag."
Apple's news release also stated that the Cupertino, California-headquarted company works with safety groups and law enforcement to keep people safe from unwanted tracking in light of "reports of bad actors attempting to misuse AirTag for malicious or criminal purposes."
Katie McCann, a U.K.-based mother who has a degree in psychology and works as a breastfeeding counselor, told Fox News Digital she sees a "complex dilemma" with the rise of technology in parenting.
"The balance between trust and safety is a tricky one," said McCann. "Children, especially as they grow older, value their independence and privacy."
She added, "Constant surveillance, even with the best intentions, might make them feel mistrusted."
McCann said she suggests parents who choose to use tracking devices to monitor their children's whereabouts "have an open dialogue" with their children.
"They should understand that the primary intent is their safety, not an invasion of their privacy," she said. "This understanding can mitigate feelings of mistrust."
While child abductions are statistically low, AirTags and similar tracking devices add a layer of security and give parents peace of mind, said McCann.
"While AirTags can be a safety tool, there's also the risk of misuse, as with any technology. Stalking, harassment and data breaches are valid concerns that parents need to be aware of," she warned.
For example, in 2019, multiple parents in the U.S. came forward claiming their in-home security cameras and baby monitors had been hacked by strangers who communicated with their children.
Surveillance camera companies responded by urging parents to change their usernames and passwords and refrain from repeating logins across multiple services.
In the U.S., there doesn't seem to be a federal law that outlines whether parents can or cannot track their children, according to FindLaw, an online legal information platform owned by Reuters.
Parents who are considering AirTags and similar devices for tracking their children should consult their state or city codes on surveillance, if any, before they commit to a purchase.
This was originally seen on www.foxnews.com.