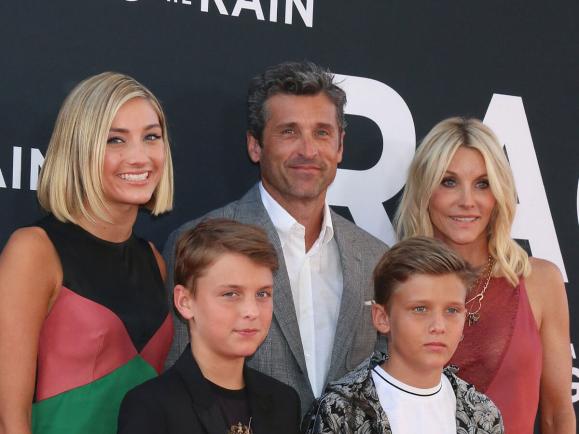 In an interview with People, Patrick Dempsey opened up about raising his kids in Hollywood, saying that he tries to keep his three children grounded despite his career in the spotlight. He explained that it can be "very challenging having your children grow up in Hollywood and to be in that environment." "I just read something about how important it is when you have children, the environment that they're in will be the most important thing for them and their development," he said. "So, trying to keep that a good calm, loving, safe environment for them."
Dempsey, who was named People's 2023 Sexiest Man Alive shares three children with his wife Jullian Fink: Talulah, 21 and twin sons Sullivan and Darby, 16. Dempsey shared that his three children "want to have their own identity, separate from me and that shadow." The actor added that each of his kids are different, saying "they all have unique qualities, and they have their own goals." "They're all athletic, they like to move. They are all very disciplined on that, and you just try to instill the right values," he said. "Hopefully, they have the right manners, and when they come back in and other parents go, 'Oh your children are very polite,' you're like, 'That's nice to hear.' And you know they are grounded." The "Grey's Anatomy" star opened up about raising teenagers, saying that it's much harder raising teens as compared to young children. The main reason being you have to learn when to let them handle things on their own and when its OK to step in. "Because you need to be around, but they don't want you around because they're fighting for their independence, which they should," he explained. "They need to find out how they interact in the world. They need to learn those boundaries. They need to make mistakes. And you need to be there for them and allow them to learn from that."
Dempsey was announced as People's Sexiest Man Alive while appearing on "Jimmy Kimmel Live!" During the episode, Dempsey shared that his family didn't believe him when he told them the news. They asked him, "No, seriously, who is it?" When asked how he felt about receiving the title, Dempsey said "I'm glad it's happening at this point in my life," he told the magazine. "It's nice to have the recognition, it's fun. If you can use this for something positive, it's good. And certainly my ego takes a nice little bump."