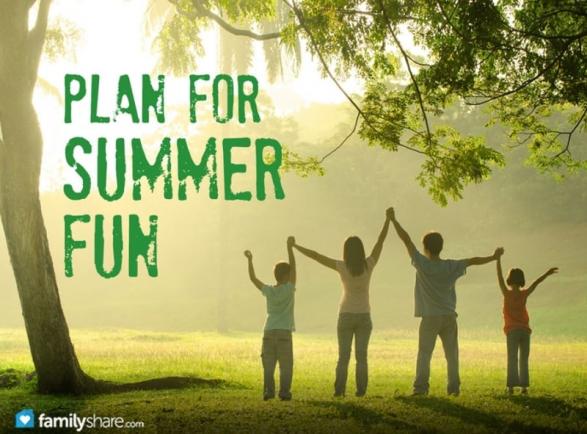 The kids are out of school, and the heat is on. Take time to enjoy your family this summer by planning ahead.
Too often, we just simply survive our summers with the kids at home. This year, instead of just trying to make the best of it, take advantage of that precious time.
Looking back, my greatest family memories are our summer vacations and outings together as a family. We went to Disneyland for the first time when I was 10, and I still think about that trip. We did a lot of things we'd never done before and saw a lot of places we'd never seen. Our car overheated on the trip, and we ended up lost one night and wound up in a city that was nowhere near our hotel - but those are the things we still laugh at together as a family to this day.
So make a promise to yourself right now that you're going to sit down with the family tonight and make a plan so that everyone can set their calendars and get on board with the idea.
Here are some guidelines to get you started:
A week
Set aside one week and plan something big - a real family vacation - even if you just go camping. Decide as a family what everyone thinks sounds fun and go with it. Now make the calls and get it set in stone.
A weekend
Think of one weekend activity you can do as a family where no one has to take time off work to accomplish it. Maybe you go to a nearby resort town and stay overnight, or maybe you just spend an entire Saturday hiking. What about setting up a tent in your backyard for a 4th of July family sleep out? Do whatever makes your family happy, but devote the entire weekend to it.
A day
Pick two or three activities that don't require a lot of time, but that the family will look forward to. Go to the zoo, the pool, or for a bike ride. When was the last time you all went on a picnic? Get ice cream and go to the park. Take advantage of the weather and get outdoors and enjoy each other's company.
Write it down
Now write everything down on the calendar and involve everyone in the planning and execution of each activity.
I promise, if you follow this plan, your family will thrive. The kids will be happier and much more cooperative about the things that need to get done before school starts in the fall. They'll be more excited to go back to school when it's time because they just had a fabulous summer.
Don't miss the opportunity to bond with your kids and do some things they'll remember forever. Decide now to get your plan in place, and have fun.