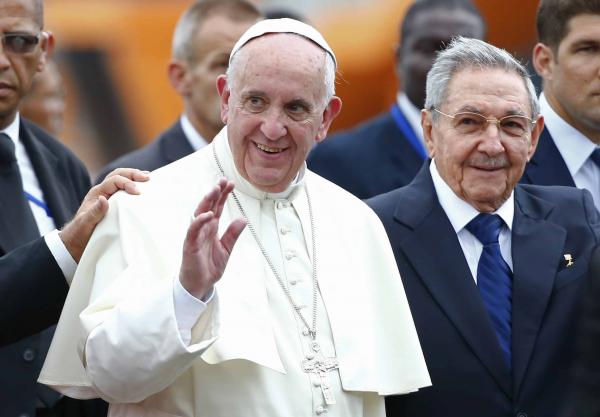 The potential docket of a visit between Pope Francis and an American technology executive slated for Friday at the Vatican isn't short on speculation - or intrigue.
First, Francis has admitted to not owning a computer, despite praising the Internet's potential.
And he's "an ardent critic of capitalism and inequality," rarely known to meet figures in American business, The Guardian wrote.
Still, Francis is set to meet Eric Schmidt, the former CEO of Google, and The Guardian noted other facets of the visit, including its briefness.
"Francis once described the Internet as a 'gift from God.' But on Friday he is due to meet with someone who may believe the Internet has more to do with his company than divine intervention," The Guardian's piece read. " ... The pope, who more than a billion Catholics believe is God's representative on Earth, will meet with the powerful Silicon Valley executive and philanthropist for 15 minutes at the Vatican in Rome."
A person familiar with the details but not authorized to speak indicated the rare meeting is "private" and not related to Google or its parent company, Alphabet, which Schmidt is the executive chairman of, USA Today wrote.
Jared Cohen, a former State Department staffer who Schmidt recruited to head Google Ideas, is to join in the meetup.
Business Insider confirmed the meeting is "definitely" happening and detailed Francis' prior soundbites on technology.
"Francis, aged 79, has previously said that he does not own a computer but he seems to be aware of the Internet's power, describing it as a 'gift from God' because of its ability to offer 'immense possibilities for encounter and solidarity,'" BI wrote. "'This is something truly good,'" he said in a speech on World Communications Day in 2014.'"
Francis might not surf the web often, but The Verge indicated he's been involved in some tech initiatives at the Vatican since becoming pope in 2013.
The pope has an official Twitter account with 8.4 million followers.
Francis also appeared in two live Google Hangouts from the Vatican, BI noted.
Gizmodo wrote that the talking points among the pope, Schmidt and Cohen aren't known.
However, news of the meetup proves positive.
"It's unclear exactly what's going on the agenda - some new Catholic e-revolution, perhaps - but the fact that a rare meeting between the world of technology and mass religion is happening at all is probably a good sign," Gizmodo's report read.