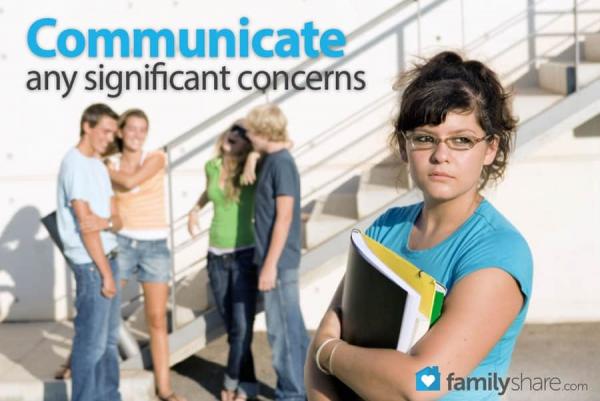 The first day of school at our house this year went something like this: teenage son No. 1 slept through his noise-maker (a double-alarm number with the volume on the highest setting), leaving him 15 minutes to eat, dress, and get to his first day of high school. Teenage son No. 2 wandered three blocks from his new bus stop, which I'd apparently described rather vaguely...
It was a mayhem-filled beginning that actually began the day before with a mad rush of school clothes shopping (nary a shirt was found) and haircuts taking place an hour before bedtime. Needless to say, my head was still in carefree July, and I earned an F for any attempts to prep my scholars for their new school year.
What (probably obvious) things I have learned about sending kids back to school:
Take your child to back-to-school night
If your school doesn't hold said night until after the new year begins, march your junior high or high schooler to school a week or so before, with schedule and locker combo in hand. Find and experiment with the locker. Walk the route of your child's classes, in order. Your student will feel a lot more confident on that first day.
For your elementary schooler, meeting the teacher and touring the classroom ahead of time will help ease any jitters
It'll also give you the opportunity to communicate any significant concerns or info to the teacher right off the bat.
Purchase new clothes and shoes, a size up, as you find sales throughout the year
Or, at the very least, hit the end-of-summer deals when they're advertised rather than facing skimpy racks in mid-August.
All those school letters that get mailed home in July/the beginning of August? Read them
I had a friend whose kids started school a week late because she didn't know when the first day back was. Honest.
Schedule haircuts for a week before the first day of school
That way, any goofs should be disguised, and the hair will grow out a bit before school picture day, which is normally held during the first few weeks back.
don't bother trying to guess what specifics your child will need until the teacher passes out a list
Stock up on school supply basics (paper, notebooks, pencils) when they go on sale, but don't bother trying to guess what specifics your child will need until the teacher passes out a list.
Take a picture on your front porch of your child each year on the first day of school
It's fun to look back and remember which outfit made the cut, how tall they look, etc.
Expect grumpiness for the first week or so
Emotions run high during the first several days back to school - especially, I have found, in young boys. The transition to a new schedule, different teacher, classmates, and classroom all affect young pupils in one way or another, so be patient.
Send your child off each morning with an "I love you."
Even on the nuttiest of mornings, giving your student a little love will help get you both off on the right foot for your day.