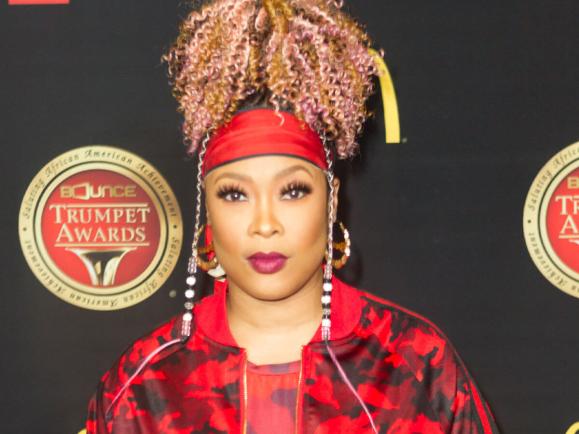 Rapper "Da Brat" has announced that she is pregnant at age 48. The "Funkdafied" singer is expecting her first child with her wife Jesseca "Judy" Harris-Dupart via sperm donor. The topic of expanding their family first began last year when the pair tied the knot. In the midst of their wedding season, Harris-Dupart, who is the CEO of Kaleidoscope Hair Products, was launching her new line that was inspired by Da Brat. While they were marketing the new launch, the couple teased fans saying "We're expanding our family" which got the couple thinking about if they wanted to have children of their own. "It started as a joke, we were like, 'We're extending our family!'" said Da Brat. "But then we got a huge response. It was like, 'Oh my God do we want to actually have kids, and if we do, girl, we better hurry up!'"
Harris-Dupart is already a mother of three from her previous relationship, but for Da Brat, she wasn't sure she ever wanted to have kids. "I never thought I was going to have kids," she says. "I just thought it wasn't in the cards for me. I've had a great career, a full life. I felt like, because I didn't get pregnant earlier on, then it just wasn't going to happen for me." But that all changed when she met Harris-Dupart. "I started looking at life so differently," says Da Brat. "I was like, I want a little me with you. Something special from the both of us that we can share and raise and love unconditionally."
The couple originally suffered the heartbreak of a miscarriage at the beginning of their pregnancy journey, but luckily there were still eggs left from Da Brat's egg retrieval for them to try again. The second time around the couple could not be happier with how the pregnancy is going. Da Brat shared how thrilled she is by saying, "It's just a blessing. I'm excited!"