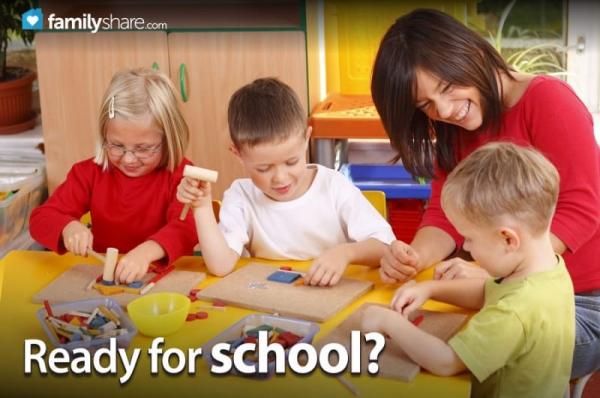 Watching your children grow up is exciting. Sending them go off to school can be frightening. Many early childhood education experts recommend a preschool experience for children. Results from a 25-year study show that children who attended preschool were more likely get more education and less likely to have criminal records, among other things. Preschool provides opportunities for organized play, time away from mom and dad, socialization, pre-reading, writing, and math skills. Prepare your child for preschool with these easy tips.
Field trip
As you consider preschools, make sure to visit the facilities and talk to teachers and staff. Bring your child with you and see how comfortable he or she feels in the classroom. Discuss with the teacher what she expects children to be able to do before attending. I recently enrolled my youngest daughter in preschool. We met her teacher and saw her classroom. Now I can refer to both as I prep her throughout the next few months.
Training time
Many preschools require students to be toilet-trained. This is an important step toward being independent at school. Make sure your child can wipe, pull up his or her pants, and wash hands independently if it's required at your school.
Sit and listen
The ability to sit and listen to a teacher is crucial for classroom success. Circle time (where students gather together as a whole class for instruction or discussion) is generally a part of preschool curriculum. Your child might also receive one-on-one and small group instruction. I practice this skill with my daughter by reading stories to her and taking her to a gymnastics class where she must listen to the teacher.
Follow directions
Can your child follow two or three-step instructions? An example of this would be "Please put the puzzle away and come join me on the rug." He or she might also be expected to line up after recess, assemble craft projects as instructed (with assistance), and clean up projects and toys. Following directions can be practiced at home. Most children love pretend play, so consider playing "preschool" as a way to prepare. You could also play the popular children's game "follow the leader."
Fine motor skills
Although most preschool curricula are play-based, children will be learning school readiness skills. Give your child plenty of opportunities to draw and hold a pencil. If she is ready, teach her to write her name. I didn't realize until I sent my oldest child to preschool that I'd never let her use a pair of scissors. Let your child try out scissors, glue sticks, crayons and paint at home so they'll be more comfortable using them at school.
Play nicely with others
Socialization is one of the most important reasons to send your child to preschool. Does your toddler have good manners? He or she will have to share toys with several other children, so make sure you practice before preschool begins. If your child doesn't spend much time playing with other children, consider starting a playgroup or taking a parent-child class together like art or dance. Your child will have a much easier time in preschool if he or she is able to play with other children.
Independence day
Some parents send their children to preschool to help them overcome shyness or clingy behavior. Your child might not be ready for preschool if they have severe separation anxiety. Try to help them enjoy preschool without you by encouraging independence. You can do this by having other people care for them. I put one of my children in a drop-off playgroup at our local community center occasionally to get her used to being with other adults.
Dress up
Children who attend preschool need to be able to put on their own shoes and coats. Because zippers and buttons can be challenging, practice beforehand or send your children to school in pants without difficult fasteners. If you live in a cold place, teaching them to put on their own hats and gloves is also helpful for recess time.
If you're not sure if your child is ready, Parents.com offers a 13-question quiz to help you decide if your child is emotionally and socially mature enough for preschool. You know your child best. If he or she is ready to head out the door for new adventures, or if you're excited about the prospect of a few hours by yourself, preschool will be great for both of you. With a little preparation, saying goodbye on the first day of school will be mostly sweet.