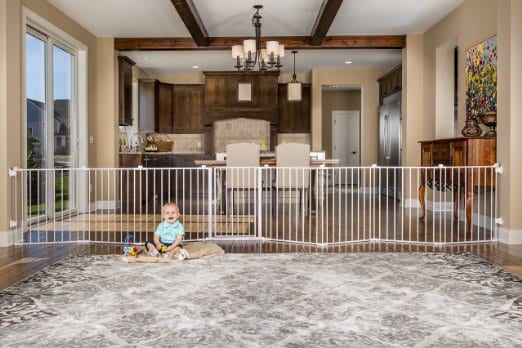 We will never spare any expense when it comes to our children but high safety ratings don't mean you have to break the bank. Check out the top three child safety products you need and the best options available for your price range.
Baby gates
Baby gates are needed in many different areas of your home. Once your baby becomes mobile you really need that little gate to make sure they stay out of dangerous areas.
When you are choosing your baby gate there are several things to consider:
1) How wide is the space you need to gate?
2) Should it be mounted to the wall, or can it be pressure mounted?
3) How stylish do you want your gate to be?
Long and wide gate
The most versatile and extendable gate is made by Regalo. You'll pay a little bit more for its extendable functions but it can wrap around hearth areas, encompass a room, or turn into a miniature play yard for your child. The panels are removable and configurable to meet many different baby gate needs.
Pressure mounted gate
If you are looking for a pressure mounted baby gate in a smaller area, your best baby gate is the North States Supergate. It's easy to use, fits small spaces, and more importantly, won't cost you an arm and a leg.
Decorative gate
If you want a stylish gate that is easy to use in your home, you should look into getting this decorative pressure mounted gate. The contrasting wood and metal can fit a space 30-60 inches wide, which is wider than most gates. It has excellent customer reviews and with the added style, it is still cheaper than other competitors, while remaining a reliable and stylish gate.
Each home situation varies when it comes to the ability to hardware or pressure mount your baby gate. If you have any question you can refer to this complete guide of baby gate proofing.
Car seats
You'll be changing your car seats fairly often as your child grows out of them. Often people tend to give them as hand-me-downs, but it is important to know the facts about the car seat you are putting your child in.
Most car seats have a 6 year service life, after which you should upgrade. They should also be replaced if they have been in a major car accident, and car seats should be checked for national recalls. As of 2016, these are the best car seats for your price by age group:
Rear to front facing
If your child is an infant to a two year old, the best car seat for safety is the Britax Marathon. Not only will this seat keep your baby safe as a rear facing car seat, but it can be converted to a front facing when they reach two years or older. Although it is a bit pricier than other seats, it is the best bang for your buck when it comes to safety and longevity features.
Front facing
If you simply need a front facing booster for your child, you should look into this seat by Evenflo. It's the best price and offers all of the safety features to give you peace of mind with your child in the back seat. This booster should also last while your child grows.
Booster
Booster seats are the final car seat you'll ever have to buy and luckily most of them won't break the bank. If you are looking for a booster that exceeds safety regulations then check out the Graco Turbo Backless Booster. Priced similarly to competitors, this is the obvious choice to keep your kids safe.
If you are looking for a more complete list of this year's best car seats, check out this article on the top car seats of 2016.
Appliance latches
On their own, appliance latches aren't costly, but when you need to latch several doors, cabinets, drawers and windows, the cost can add up. While it is fun to watch your child's curiosity grow as they become more mobile, we want to avoid any unnecessary mishap we can by keeping them out of dangerous areas with these products:
Cabinet and drawer
If you want versatility and cost effectiveness in your latches, check out the Munchkin Dual Action latches. They are more cost effective than magnet cabinet locks but still keep the kiddos out of harm. Plus, they use a dual release system so you don't have to worry about losing your magnetic key.
Window
There are many types of windows but one stopper works for most. The cheapest and least obstructing window latch is the window wedge. The window wedge can also keep your window open. If you are using the window wedge to ventilate your home, only keep the window open a maximum of four inches to ensure your child cannot fall out or get through the window.
Door
There is no right or wrong way to baby proof a door, but if your door is inside your home the best option I've found is the Door Monkey. It acts as both a door lock and pinch guard while allowing air to circulate through your rooms.
If you want to learn a full baby-proofing process you can check out these baby proofing resources.
Protecting our children comes down to three things: know your surroundings, be aware of product pros and cons, and find what fits your situation the best. But don't let it cost you a fortune.