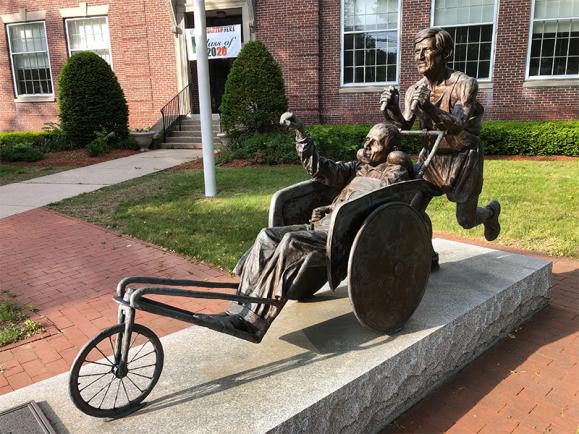 Dick Hoyt was an iconic participant of the Boston Marathon famous for running the race for decades with his son with disabilities, Rick. Hoyt was loved by many for his dedication and inclusion that never faltered over the years. The loved father-son duo conquered their 32nd and last Marathon in 2014. The following year, Hoyt was granted the title of grand marshal of the Boston Marathon.
Dick's son Russ Holt announced that Hoyt had been battling health issues and passed away quietly in his sleep March 17, 2021 at his Massachusetts home. He was 80 years old.
"He had an ongoing heart condition that he had been struggling with for years, and it just got the better of him," Russ Hoyt explained.
Russ and Rob Hoyt shared the somber news with their brother Rick, Dick's marathon partner.
"He's sad, as we all are, but he's OK," Russ stated. "You could see it in him, it was like someone hit him."
Rick Hoyt was born with spastic quadriplegia. This is the most severe form of spastic cerebral palsy, making the person unable to control their arms, legs, face, and body. That form of cerebral palsy even inhibits the person's ability to speak. Despite it all, Hoyt always had his son right along with him in the races, wheeling him to the finish line.
The Hoyts participated in hundreds of marathons, triathlons, and other races spanning over many decades. That plethora of events includes 32 Boston Marathons since 1980, an ongoing streak that concluded in 2014. For their last triumph, Dick Hoyt was 73, and Rick Hoyt was 52.
The Massachusetts native planned to have their last Marathon be in 2013. However, they ended up being one of the thousands who were stopped before finishing the race due to the tragic events at the finish line in the 2013 Boston Marathon bombing.
The dynamic duo finished their last race in 2014 with an impressive time of 7:37:33, which included the many fan interactions along the run who paused them for moments of celebration and encouragement.
"It wasn't tough out there," Dick Hoyt said in an earlier interview about the particular Marathon, "but we made it a little tougher because of all our fans out there; it was just unbelievable crowds out there."
When the famous duo finally reached the finish line that evening, several supporters wore 'Team Hoyt' merchandise cheering them on and running through with them.
"The B.A.A. is tremendously saddened to learn of the passing of Boston Marathon icon Dick Hoyt," the Boston Athletic Association's website stated. "Dick personified what it meant to a be a Boston Marathoner, showing determination, passion, and love every Patriots' Day for more than three decades."
Dick Hoyt's legacy will carry on in those who admired his dedication over the years. Hoyt's drive and love for his son is incredibly inspirational.
"My father would say all the time. 'Rick's the heart and I'm the body.' And it was just true. He did what he did because Rick inspired him to do it," Russ Hoyt stated in an interview with CBS Boston. "To be able to say that your dad is your hero…he is."